Over The Top Sherry Berry Christmas Trifle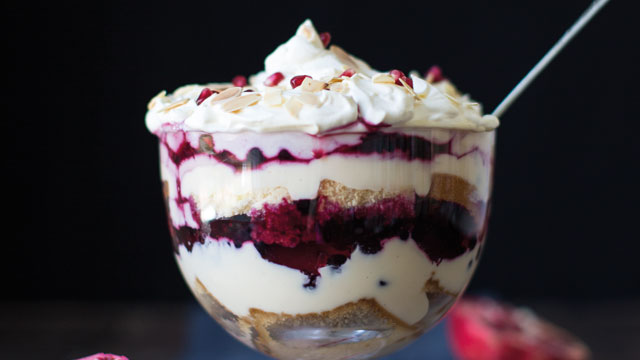 10 servings
30 minutes to prepare
Ingredients
450g mixed frozen berries
2 tbsp Billington's golden caster sugar
The seeds and juice of a pomegranate
50g fresh berries: blueberries, blackberries-whatever you can get
400ml water
5 leaves of gelatine
Booths toasted flaked almonds
3 tbsp dry Sherry
500ml luxury custard
400ml double cream
1 Madeira cake
1 Ndali vanilla pod
Instructions
The jelly and custard
1 Empty the frozen berries into a saucepan with the sugar and 2 tbsp of the Sherry and heat over a medium temperature until they've softened and the juice has become syrupy.
2 Add the pomegranate juice and the water and bring up to a gentle simmer.
3 Soak the gelatine leaves in cold water for 5 minutes until soft and squidgy, then squeeze out the excess water and add the leaves to the saucepan.
4 Stir until they've totally dissolved, and take the pan off the heat.
5 Pour the jelly mixture into a bowl and once it's completely cool, put it in the fridge to set for at least and hour and a half.
6 Cut the vanilla pod in half, scrape out the seeds and whisk the vanilla into the custard.
The assembly
1 Slice the Madeira cake into 2cm thick slices and line the bottom of the dish with it, then pour over the remaining Sherry.
2 Spoon the custard on the top of the sponge and smooth it into a layer with a palette knife.
3 Take the jelly out of the fridge and layer it on top of the custard.
4 Top with  pomegranate seeds and any fresh berries you might have.
5 Repeat the layers of sponge, then custard, then berries until you've nearly reached the top of the dish.
6 Whip the cream to form soft peaks and dollop this on top of the final layer of custard.
7 Top with flaked toasted almonds and pomegranate seeds.