Pineapple and Mint Iced Cooler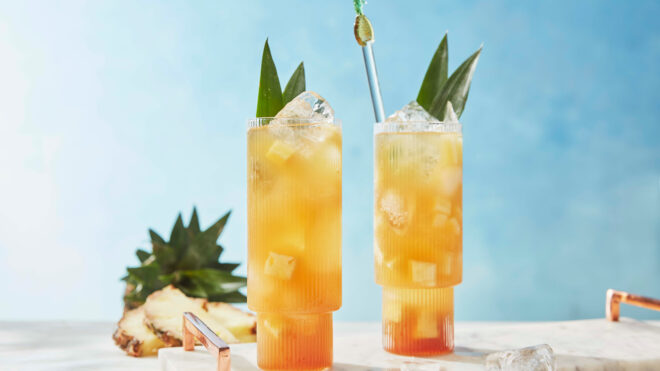 4 servings
15 minutes to prepare
Ingredients
1ltr water
4 Booths Darjeeling tea bags or 8g loose leaf Assam
100g granulated sugar
250ml pineapple juice
1 pack prepared pineapple
1 bunch mint
300g ice
Instructions
Method:
1. Bring the water to the boil in a large saucepan then remove from the heat.
2. Add the tea and sugar and infuse for 5 minutes.
3. Remove the tea bags or strain the loose tea and add the pineapple juice.
4. Add 1/2 of the bunch of fresh mint and allow to cool, remove the mint then pour into a large pitcher.
5. Fill 4 large glasses with ice and pineapple chunks and then fill with the pineapple iced tea.
6. Garnish with the remaining mint, pineapple and your favourite straws.
Chef's Tip:
If you want to turn this into a cocktail add 8 shots of your favourite rum or go retro with Malibu.