Penne Pasta with Roasted Tomato & Pesto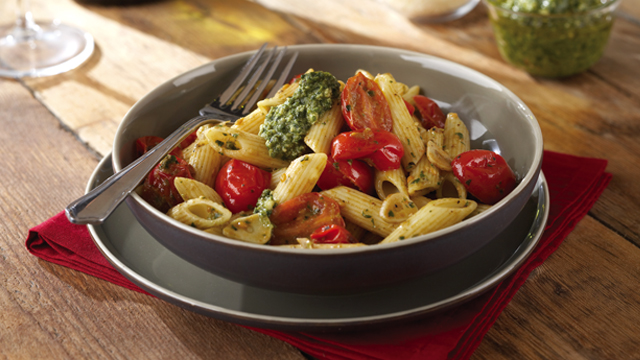 2 servings
25 minutes to prepare
Ingredients
2tbsp Booths Italian extra virgin olive oil
200g baby plum tomatoes, halved
2 garlic cloves, sliced
200g Booths penne pasta
1tbsp balsamic vinegar
2tsp Sampori D'Italia - Pesto di ricola fresh pesto
Instructions
Cook the pasta in a large pan of boiling water until al dente and drain.
Meanwhile, in a large frying pan, gently cook the tomatoes in the olive oil until they begin to soften. Then add the garlic and continue cooking for 1 minute, seasoning with a little salt and milled pepper.
Finally, add the balsamic vinegar and cook for a further 1 minute.
Remove the sauce from the heat, mix with the pasta and pesto and serve with basil leaves.