Porridge Toppers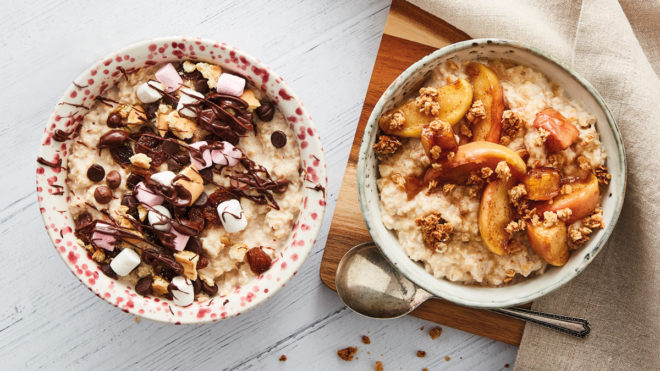 2 servings
15 mins to prepare
Ingredients
Rocky Road
3 Rich Tea Biscuits
1 handful of sultanans
1 handful mini marshmallows
1 handful dark chocolate chips
Drizzle of chocolate spread
Apple Crumble
150g rolled oats
65ml maple syrup
20ml sunflower oil
2 fresh red apples
3 tbsp maple syrup
1 tsp vanilla
1 tsp cinnamon
Instructions
Rocky Road Topper
METHOD
Mix 3 crumbled Rich Tea Biscuits, 1 handful of sultanas, 1 handful mini marshmallows and 1 handful of dark chocolate chips together in a bowl.
Sprinkle half of the mix over a bowlful of simple creamy porridge then add a drizzle of chocolate spread.
Apple Crumble Topper
METHOD
1 Pre heat the oven to 180C/160C (fan)/Gas Mark 4/350F
2 For the granola crumble, mix together 150g rolled oats, 65ml maple syrup and 20ml sunflower oil. Spread evenly on a greaseproof lined baking tray. Cook for 15-20 minutes until golden, stirring occasionally. Remove from oven to cool.
3 Cut and core 2 fresh red apples into segments. Over a medium to low heat cook the apples, 3 tbsp maple syrup, 1 tsp vanilla, 1 tap cinnamon and a splash of water gently for around 8 minutes, until the apples soften.
4 Top a bowlful of simple creamy porridge with the caramelised apple and granola crumble. add a drizzle of maple syrup to finish.