Pressed Italian Picnic Loaf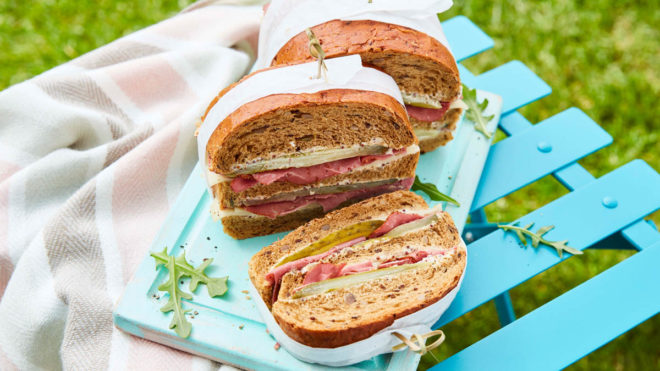 4 servings
5 mins to prepare
Ingredients
1 multi-seed loaf
100g crème fraîche
2 tbsp wholegrain mustard
8 slices Emmental cheese
8 slices Pastrami
12 sliced sandwich gherkins
Salt and Pepper
1 bag of rocket leaves
Instructions
METHOD
1 Place the loaf onto its side; using a bread knife cut the loaf along its length into 4 long slices. Remove one of the middle slices.
2 Mix the crème fraîche and mustard together.
3 To assemble, spread the bottom slice of loaf with a tablespoon of mustard crème fraîche, top with 4 slices of Emmental cheese, 4 slices of Pastrami and 6 gherkin slices. Season to taste.
4 Spread the next slice of loaf with one tablespoon of mustard crème fraîche and place directly onto the gherkin layer. Repeat to use all of the ingredients.
5 Place the bread lid top onto the loaf and wrap the loaf in a sheet of parchment paper. Place the loaf into a loaf tin. Weight the top of the loaf to press and place in the fridge to chill for 30 minutes.
6 To serve, unwrap the loaf and slice. Serve with rocket leaves.