Discover New Ways to Use Everyday Ingredients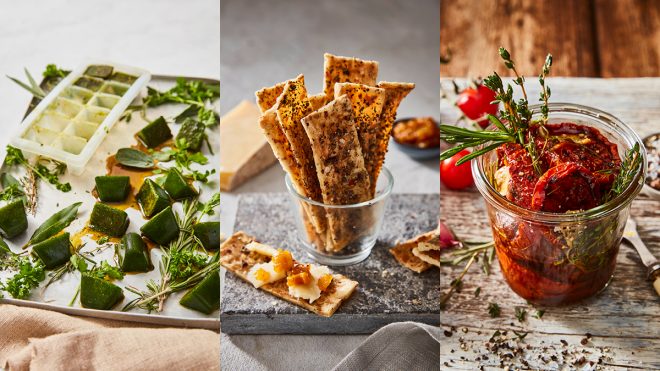 1 servings
Multiple to prepare
Ingredients
Leftover herbs
Leftover tomatoes
Leftover bread
Instructions
Herby Ice Cubes
These little cubes of flavour pack a big punch. These are great to add flavour to soups, stews or sauces.
Blanch your leftover herbs in boiling water for 10 seconds and cool quickly under running cold water. This will keep the herbs bright green once frozen. Pulse in a blender until smooth with equal quantities of water then pour the mixture into your ice cube trays. Once frozen, pop out of the trays and place them in a plastic bag. They will last in the freezer for up to 3 months.
Oven Dried Tomatoes
The sun is in short supply but you'll be surprised with the flavour of these oven dried tomatoes. They will last in your fridge for a couple of weeks – if you don't eat them first!
Cut any old, soft or unused tomatoes in half and place on a baking tray and give them a drizzle of olive oil and a few drops of balsamic vinegar. Place a thin slice of garlic, a few thyme leaves or mixed herbs and a pinch of sugar and sea salt on top of each tomato. Dry in a low oven (80°C) for about 8 hours. Place the tomatoes and any juices, in a clean air tight jar and top up with olive oil.
Homemade Crackers
Absolutely irresistible! You wouldn't think these tasty crackers started off as stale bread. They are perfect topped with cheese from our cheese counter and our Lancashire chutney, or with a dollop of pâté spread on top.
Remove the crusts off any leftover slices of bread. Roll flat with a rolling pin and cut the bread into fingers. Glaze each piece with a little oil or egg white and then sprinkle with your favourite seeds, herbs and spices. Place onto a baking  tray and dry in the oven at 80°C for a few hours or until  they are crisp. Store in an air tight container and they are good to keep for 3-5 days.