Rainbow Trout With Lemon & Capers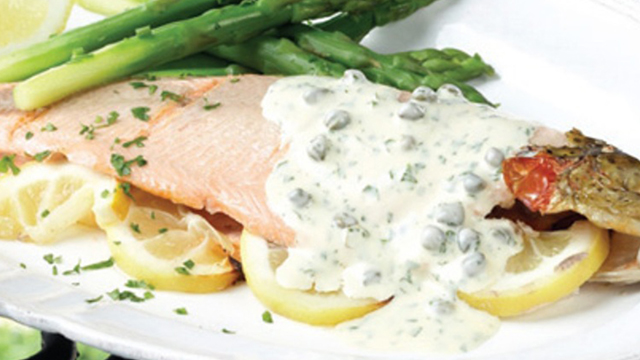 2 servings
15 mins to prepare
Ingredients
2 whole rainbow trout, scaled and gutted
1 lemon
2tsp capers
2tbsp Booths Italian extra virgin olive oil
Small bunch of parsley
20g Booths butter
1 bunch of asparagus
1 jar of hollandaise sauce
Instructions
Pre-heat your barbecue or grill to full.
Wash and dry the fish with a little kitchen roll. Make three to four slashes to both sides of the trout about ½ cm deep. Then rub the olive oil all over the fish and season with salt and pepper. Slice the lemon into thin rings and pop into the belly of the trout. Place the fish onto a tray or the barbecue and dot with the butter.
Cook for six minutes on both sides until crisp and golden either on the barbecue or under the grill.
Whilst the fish is cooking, trim the asparagus and drizzle with a little olive oil. Cook on the barbecue or under the grill for 3 minutes. Warm the hollandaise in the microwave for 1 minute. Stir then add the capers and parsley. Serve drizzled over the fish. Great with new potatoes.
Got some leftover trout? Try this recipe: