Rhubarb Trifle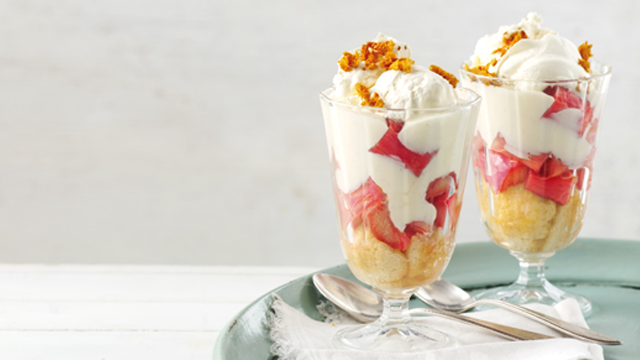 6 servings
30 minutes to prepare
Ingredients
700g rhubarb washed and cut into 2cm pieces
120g caster sugar
Juice of 1 orange
500ml fresh custard
150ml green tea, hot
100ml sherry
6-8 trifle fingers
300ml double cream
Juice of 1/2 lemon
2tsp icing sugar
For the Honeycomb
50g caster sugar
2tbsp golden syrup
1tsp bicarbonate of soda
Instructions
You will need 6 individual glasses or teacups.
To make the honeycomb place the sugar and syrup in a medium saucepan, gently heat and stir to dissolve the sugar. Once dissolved turn up the heat and bring to the boil then cook for about 5 minutes until a golden brown, taking care as the mixture will be extremely hot. When the mixture starts to bubble stop stirring. Now add the bicarbonate of soda, stir for a few seconds until the mixture expands and fizzes up. Pour the honeycomb onto a tray lined with non-stick parchment paper and leave until cold. Once cold, smash into pieces. You can store the honeycomb in a tupperware container until required.
Preheat your oven to 180ºc gas 4.
For the trifle, place the rhubarb, caster sugar and orange juice into a baking tray cover with foil and cook for 15-20 minutes then leave to cool.
Mix the hot green tea with 50ml of sherry. Dip the sponge fingers into the mixture and then place into your serving glasses.
Pour the juices from the rhubarb into a large bowl and set aside. Place the rhubarb pieces into the glasses. Next spoon over the custard and chill in the fridge.
Add the remaining sherry to the rhubarb juice along with the icing sugar, lemon juice and cream. Whisk until you have soft peaks. Spoon this over the custard and pop back into the fridge. When ready to serve, sprinkle over the crushed honeycomb, a little icing sugar and enjoy.