Roasted & Stuffed Butternut Squash (Vegan)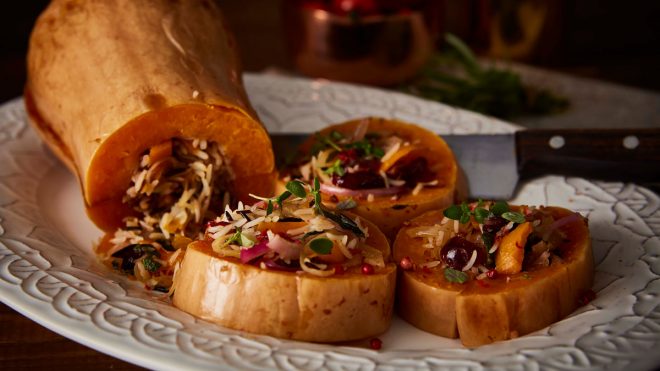 4 servings
2 hours to cook, 30 minutes to prepare
Ingredients
2tbsp olive oil
1 butternut squash
1 red onion, peeled and chopped
2 garlic cloves, sliced
75g dried cranberries
8 sundried tomatoes, chopped
35g fresh thyme leaves
50g fresh sage, chopped
75g walnuts
75g wild basmati rice, cooked
150ml vegetable stock, to cook the rice in
Pinch ground allspice
Cracked black pepper and sea salt
Instructions
A perfect centrepiece to a festive roast dinner, this roasted and stuffed butternut squash will steal the show.
Pre-heat the oven to 180c / 350f / gas mark 4.
Carefully cut the squash in half lengthways, scoop out the seeds and discard. With a spoon, score the flesh on each half, then scoop most of it out leaving 1 cm boarder of squash. Dice the squash you've just removed, this will create part of the stuffing.
Slice the red onion and garlic, 1tbsp of the oil to a non-stick frying pan and gently fry them until they start to soften. Add the chopped squash flesh, dried cranberries, sun dried tomatoes, sage, thyme and walnuts then cook for 5 minutes, stirring occasionally. Add a pinch of allspice followed by the cooked wild basmati rice.
Carefully spoon the mixture into the prepared butternut squash and pack in tightly. Close the two halves together and lightly oil the skin before wrapping tightly in foil.
Bake in the oven for approximately 2 hours until soft, then slice and serve with your favourite veggies.
Chefs tip
Substitute fresh walnuts for pickled walnuts to add extra flavour.
The optimum time and temperature varies by individual ovens – these are guidelines only. Please ensure all cooked recipes are served piping hot. Use separate kitchen utensils and surfaces for raw and cooked foods, or wash thoroughly in between use. Some products may only be available in our larger stores. All content © Booths 2017.