Salted Caramel Pumpkin Fudge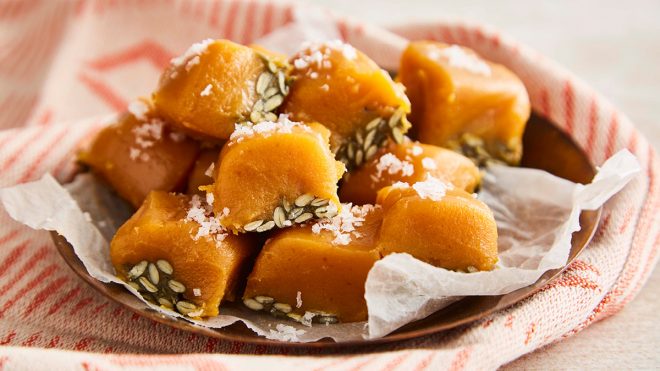 4 servings
1 Hour to prepare
Ingredients
100g pumpkin seeds
240g pumpkin puree
300g sugar
90g glucose syrup
1tbsp sea salt (we use maldon)
360ml double cream
75g butter (diced)
500ml water
1tsp Mixed Spice
Instructions
Halloween isn't just for kids – We have the perfect sweet treat for grown-ups too! So why not try our salted caramel pumpkin fudge, an ideal way to use up the pulp from your pumpkin carving!
1 First things first, line a small roasting tin (approx. 15cm x 25cm) with baking parchment and then lightly toast the pumpkin seeds in a frying pan until they begin to 'pop' then spread them evenly over the bottom of a roasting tin.
2 In a saucepan bring all of the cream, pumpkin puree and mixed spice to a simmer and immediately remove from the heat once it's simmering.
3 In a separate saucepan bring the water, sugar and glucose to the boil stirring occasionally. Continue to boil until the mixture reaches 118°C.
4 Whisk in the cream and pumpkin mixture and then continue to boil whilst stirring often to prevent the mixture burning on the bottom of the pan.
5 When the mixture has reached 116°C remove from the heat and quickly stir in the diced butter.
6 Pour the mixture evenly into the prepared roasting tin and leave to cool for 1 hour at room temperature.
7 Remove from the roasting tin and cut into 2 cm squares, sprinkle with the sea salt.
CHEF'S TIP To make your own pumpkin puree, peel then cut a pumkin into chunks, place in a pan and bring to the boil. Cook for 20 minutes, allow to cool then blitz.