Slow-Cooked Boeuf Bourguignon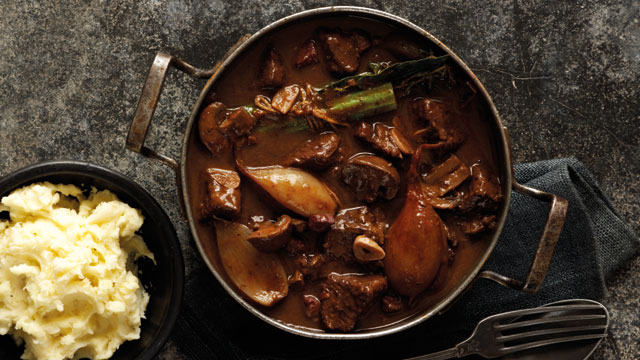 4 servings
210 minutes to prepare
Ingredients
700g beef steak (chuck), cut into large chunks
100g smoked bacon, cut into small chunks
350g shallots, pealed and cut in half
250g chestnut mushrooms, cut in half
3 garlic cloves, sliced
2 sprigs of rosemary
2 bay leaves
5 thyme stalks
1 celery stick, cut in two
20cm piece of kitchen string
1 tbsp Worcestershire sauce
1 tbsp tomato puree
1 bottle of good red wine
1 tbsp plain flour
2 tbsp olive oil
150ml water
For the celeriac and potato mash
450g potatoes, peeled and cut into 3cm pieces
2 garlic cloves
50g butter
100ml double cream
1 head of celeriac, peeled and cut into 2cm pieces
salt and miled pepper
Instructions
1 Pre-heat the oven to 160ºc / gas 3
2 Heat a large casserole dish and add one tablespoon of olive oil.
3 Put the diced chunk into a large bowl and toss it in the flour. Make sure it's all covered.
4 Fry the beef in batches, adding the olive oil as you need it. (Keep back a bit for the next step.) Once it's nicely browned, put the beef into a bowl.
5 Add the smoked bacon and shallots to the dish you fried the beef in. Use a little more olive oil and cook until the bacon starts to crisp and the shallots start to brown.
6 Add the sliced garlic and chestnut mushrooms and cook for a few minutes.
7 Take one piece of celery, lay the herbs along its length, put the second piece of celery on top and tie it up with the string, then place in the pan.
8 Put the beef back in the pan with any juices, add the Worcestershire sauce and tomato puree and cook for a few minutes.
9 Pour in the red wine and 150ml water.
10 Bring the pan to a simmer, put on the lid and cook for 2 1/2 hours, gently stirring halfway through and adding a little extra water if it looks like it's drying out.
The celeriac and potato mash
1 Bring two saucepans of water to the boil.
2 Put the celeriac in one and the potatoes in the other.
3 Add a garlic clove to each with a pinch of salt and cook for about 12 minutes until the vegetables are tender.
4 Drain them and leave them to dry for a few minutes.
5 Put the vegetables back into one pan, add the butter, cream and some salt and miled pepper.
6 Mash until creamy.