Smoked Haddock Kedgeree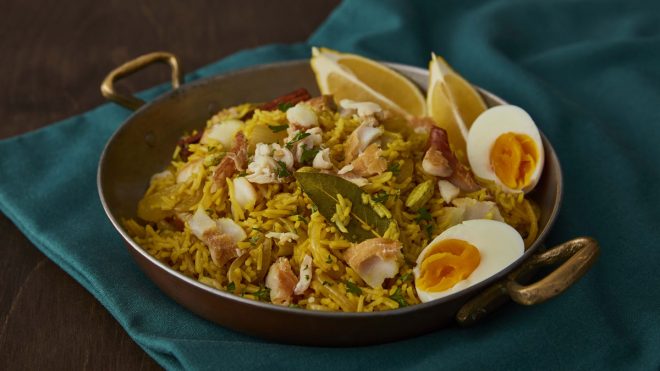 6 servings
35 minutes to prepare
Ingredients
50g butter
1 medium onion, finely chopped
3 split cardomom pods
1/4tsp ground tumeric
1 small cinnamon stick
2 fresh bay leaves (or 1 dried)
450g basmati rice
1ltr chicken or fish stock
750g smoked haddock fillet
3 eggs
3tbsp chopped fresh parsley
1 lemon, sliced into wedges
Instructions
Kedgeree is delicious for breakfast, brunch, lunch dinner or supper – the perfect hearty and warming fish dish that makes the most of smoked haddock.
Method
Melt the butter in a large saucepan, approx 20cm/8", and gently cook the onion over a medium heat for about 5 minutes until it is soft but not coloured. Stir in the cardomom pods, turmeric, cinnamon stick and bay leaves then cook for a further 1 minute.
Add the rice and stir until it's all combined in the spicy, onion butter mix. Pour in the stock, add 1/2tsp salt & then bring to the boil. Stir just the once to release any rice grains from the bottom of the pan. Cover, reduce the heat and cook very very gently for 12 mins.
While the rice is cooking, in a shallow pan bring some water to the boil. Add the haddock and simmer for 4 minutes until its just cooked, be careful not to over cook it. Lift the fish out of the pan and set aside on a plate to cool so it can be handled.
Hard boil the eggs for 6 minutes. Peel once cooked, cool and quarter.
Gently flake the fish, removing any skin or small bones.
Take the lid from the rice pan and gently fold in the fish and eggs, cover the pan again then gently heat for 2-3 minutes until the fish has heated through. The steam also draws all those flavours through the flesh of the fish.
Stir through some of the parsley, season with salt and pepper then serve with the rest of the parsley on top and lemon wedges.
Chefs tip
You can easily replace the 2 fresh bay leaves with 1 dried one. Although the flavour is slightly different it's just as aromatic.
Don't eat the whole spices (cardomom pods, bay leaves and the cinnamon stick) just place to the side of the plate.