The Boho Baker's Smoky Bourbon Barbecue Ribs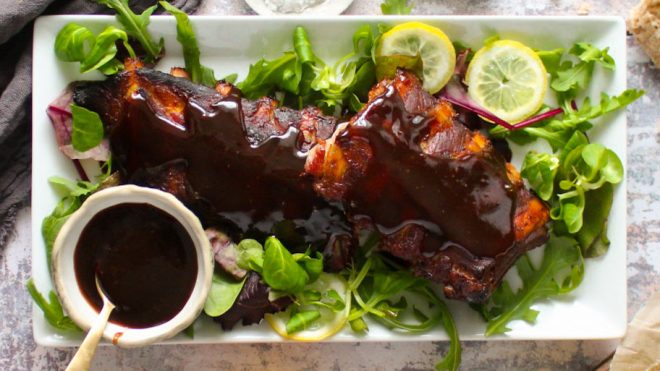 6 servings
90 minutes plus overnight to marinate to prepare
Ingredients
1 rack / 20-24 pork ribs
120g dark brown sugar
180ml bourbon
30ml Worcestershire sauce
12g mustard powder
2tbsp tomato ketchup
1tbsp cider vinegar
2tbsp smoked paprika
1tsp cornflour
Instructions
The Boho Baker describes herself as "Baker. Writer. Forager. Wanderer. Organic ingredient and edible floral Enthusiast. Member of the Guild of Food Writers." Very local to our HQ in Preston, she's our fabulous professional guest recipe writer, and champion of celebrating the best of our local produce. Follow her on instagram @thebohobaker
Method:
Whisk together the sugar, bourbon, Worcestershire sauce, mustard powder, tomato sauce and cider vinegar.
Pop the ribs into a sealable bag or large container. Pour the marinade over the ribs, seal, and refrigerate overnight.
Remove the ribs from the marinade and grill on the barbecue until cooked through. Alternatively, you can cook the ribs in the oven for 90 minutes at 180°C/160°C (fan)/gas mark 4.
Pour the marinade into a saucepan and whisk in the cornflour. Bring to a boil, stirring continuously until the sauce is thick and glossy. Pour the sauce over the ribs and serve immediately.