Spiced Caramel Clementine and Frangipane Tarts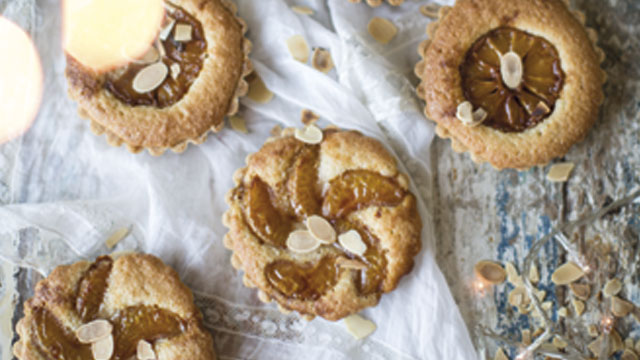 6 servings
75-100 minutes to prepare
Ingredients
100g unsalted butter, cubed
50g Billington's golden caster sugar
200g Booths plain flower
1 medium egg
A pinch of salt
For the spiced caramel clementines clementines, peeled and sliced into rounds, or separated into segments, depending on your preference
100g Billington's golden caster sugar
3 star anise
1 cinnamon stick
5 cloves
1 tsp ground nutmeg
1 juice of an orange
4 clementines, peeled and sliced into rounds, or separated into segments, depending on your preference
For the frangipane filling
2 medium eggs
80g ground almonds
2 tbsp Booths plain flour
100g unsalted butter, at room temperature
100g Billington's golden caster sugar
1/2 a lemon zest
Instructions
The pastry
1 Sieve the flour and salt together into a large bowl.
2 Rub in the butter until you've got the texture of sand, and make a well in the centre.
3 Beat the egg lightly and dissolve the sugar in it, then pour it into the well and incorporate it gently into a smooth paste.
4 Form it into a ball and rest it for at least an hour in the fridge before dividing it into 6.
5 Roll each sixth out thinly and line 6 10cm wide tart tins.
6 Lay baking paper in the tins and put baking beans in each.
7 Bake for 10 minutes with the baking beans, then for 5 minutes without.
The spiced caramel clementines
1 Melt the sugar in a heavy bottomed saucepan, very slowly, without stirring it. Just give the pan a shake now and then to stop it sticking.
2 Take it off the heat after 5 minutes, or when the sugar has melted.
3 Add the orange juice, then all the spices.
4 Let it cool, then add the clementines and let them marinate.
The fragipane filling
1 Put the softened butter, ground almonds, flour, eggs, sugar and zest in a bowl.
2 Beat it until you have a sloppy mixture.
The tarts
1 Pre-heat the oven to 180ºc/ gas 4.
2 Divide the fragipane between the pastry cases and arrange the clementines on top.
3 Use a pastry brush and a little of the spiced caramel from the pan to glaze them.
4 Bake for 20-25 minutes, until the fragipane has puffed up and turned golden.
5 Sprinkle toasted flaked almonds over the top.