Spinach Blender Crepes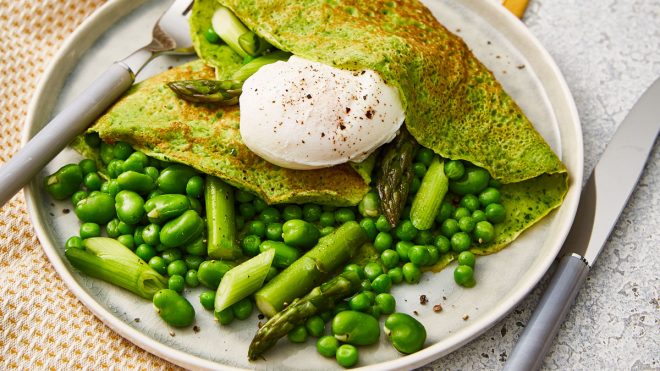 4 servings
25 minutes to prepare
Ingredients
FOR THE CREPES
150g plain flour
1tsp baking powder
2 eggs
100g spinach leaves
500ml whole milk
1/2tsp salt
TO FRY
Drizzle of olive oil
SERVING SUGGESTION
Drizzle of olive oil
1 clove garlic, crush
200g asparagus
4 spring onions, sliced
100g frozen peas
100g frozen broad beans
4 eggs, poached
Instructions
As easy as whipping up a smoothie, these spinach crepes make for a delicious healthy tea ready in under 30 minutes.
Method
To make the crepes, place all of the ingredients into a blender. Blitz to combine.
Place a crepe pan over a high heat. Drizzle a little olive oil into the pan and cook the crepes in batches for 2 minutes on each side. Repeat until all of the batter is used. Keep the crepes warm whilst you prepare your filling.
Serving Suggestion
Heat a frying pan over a medium heat, add a drizzle of olive oil. Add the garlic, asparagus, spring onions, peas and broad beans. Sauté for 5 minutes. Divide the filling between the pancakes and serve with a poached egg.
Chef's Tip
Fill these pancakes with your favourite flavour combinations. Why not try creamy chestnut mushrooms, sautéed peppers and feta or watercress and smoked haddock.