Cheese, Artichoke and Spinach Risotto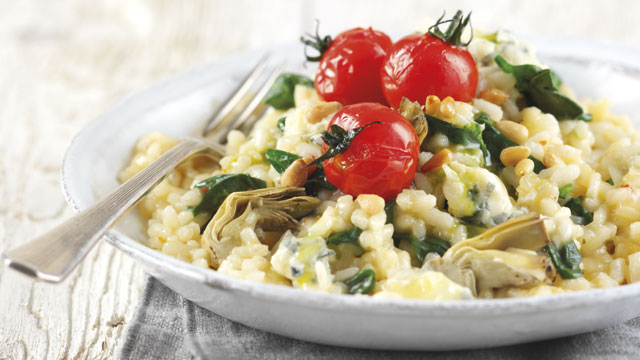 2 servings
55 minutes to prepare
Ingredients
1 tbsp olive oil
2 banana shallots, finely chopped
1 garlic cloves, crushed
50ml white wine
200g risotto rice (such as Arborio or carnaroli)
1/4 tsp chilli flakes
4 marinated artichokes, sliced
Large handful spinach, roughly chopped
40g St Agur or Manchego cheese, finely grated
500ml vegetable stock, kept hot in a saucepan to the side
FOR THE WATERCRESS OIL
1 bag watercress
100ml extra virgin olive oil
Salt and milled pepper
TO SERVE
Cherry tomato halves roasted in olive oil and salt unitl soft, lightly toasted pine nuts and a few watercress leaves
Instructions
Preparation Time 30 minutes
Cooking Time 25 minutes
For the watercress oil simply blend the ingredients until smooth for 2-3 minutes to produce a beautiful vibrant green oil. Strain through a fine sieve or muslin cloth.
For the risotto, take a large frying pan and gently fry the finely chopped shallot in the olive oil until soft but not browned. Add the garlic, chilli flakes and white wine and cook until the wine has absorbed. Now add the risotto rice and cook for 1 minute before adding half of the vegetable stock, keep the rest on a low heat to the side.
Keep the risotto simmering for about 15 minutes, adding a little more stock as required.
Next stir in the artichoke and spinach just to warm through, with a little more stock if required. Finally add the St Agur or Manchego cheese into the risotto and stir until melted.
Season to taste and serve topped with roasted cherry tomatoes, lightly toasted pine nuts and a drizzle of the watercress oil.