The Boho Baker's Autumn Spiced Rhubarb Tarte Tatin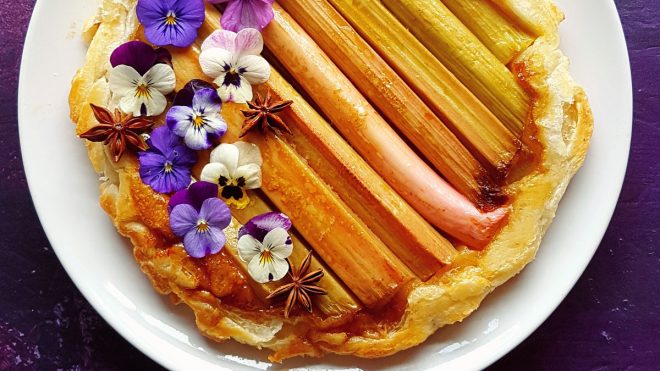 6 servings
25 minutes to cook, 15 minutes to prepare
Ingredients
400g Yorkshire rhubarb, chopped
100g golden caster sugar
5tbsp lemon juice
1tsp cinnamon
1tsp ginger
1/2tsp nutmeg
1 sheet ready-rolled puff pastry
To Serve
Edible flowers (optional)
Star Anise (optional, just for decoration
Vanilla Ice Cream
Instructions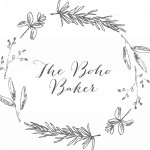 The Boho Baker describes herself as "Baker. Writer. Forager. Wanderer. Organic ingredient and edible floral Enthusiast. Member of the Guild of Food Writers." Very local to our HQ in Preston, she's kindly agreed to do a series of recipes for us, celebrating the best of our local produce. Follow her on instagram @thebohobaker.
This simple dessert in hues of green and pink is perfect for chilly Autumn evenings. The spiced caramel layer is sure to convert anyone who finds rhubarb a tad bitter, and provides a comforting warmth to this humble dish.
Method:
Preheat your oven to 220C/Gas Mark 7. Take a tart, pie or cake tin and fill with the chopped rhubarb. Do not worry if it does not fit perfectly as any gaps will be filled with the puff pastry.
Heat the golden caster sugar in a pan until it has melted down into a liquid. Add the cinnamon, ginger and nutmeg and stir well before removing from the heat and adding the lemon juice. The caramel may foam slightly upon adding the lemon juice, but can easily be stirred down.
Pour the caramel over the sliced rhubarb and then place the sheet of puff pastry over the top. Run your fingers around the edges to identify any gaps and then tuck in the pastry until snug. Remove any excess pastry and then pop the tatin in the oven for 25 minutes, or until the pastry is golden and puffed and the caramel is bubbling nicely.
Remove the tatin from the oven and place your serving plate on top. Carefully (using oven gloves or thick tea towels), flip the tatin over so it slips out of the dish and onto your plate.
Decorate with edible flowers and star anise whilst still warm and before serving with ice cream.
Hints/Tips/Troubleshooting:
Not into edible flowers? A dredging of icing sugar mixed with a little cinnamon and ginger makes a delicious alternative topping.
If you are using edible flowers, always stay safe and make sure that the flowers you are using were grown for consumption and have not been exposed to chemicals or pesticides.