Toffee Apple Crumble Sours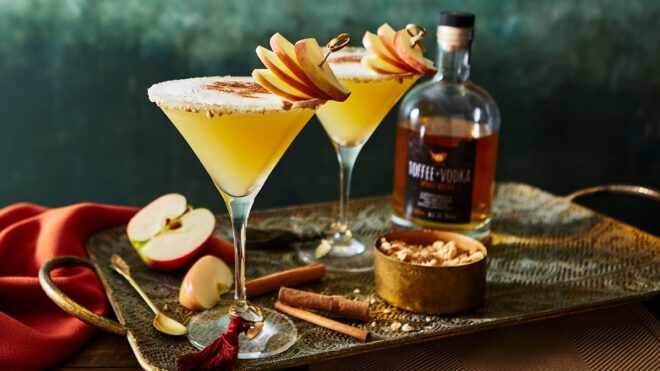 2 servings
5 mins to prepare
Ingredients
Shaker Ingredients
70ml Kin Toffee Vodka
2 lemons, juiced
100ml cloudy apple juice
1 egg white
A few cubes of ice
To Garnish
Maple Syrup
Digestive Biscuits, crumbled
Apple slices
Ground cinnamon
Equipment
2 martini glasses
Cocktail sticks
Instructions
METHOD
1 Dip the rim of each martini glass into some maple syrup and then into a bowl of crumbled digestive biscuits to create the crumble rim.
2 Add all the shaker ingredients into a cocktail shaker or large jam jar and shake vigorously for 40 seconds.
3 Pour into the glasses, garnish with apple slices and a sprinkle of ground cinnamon.