Tomato & Chilli Passata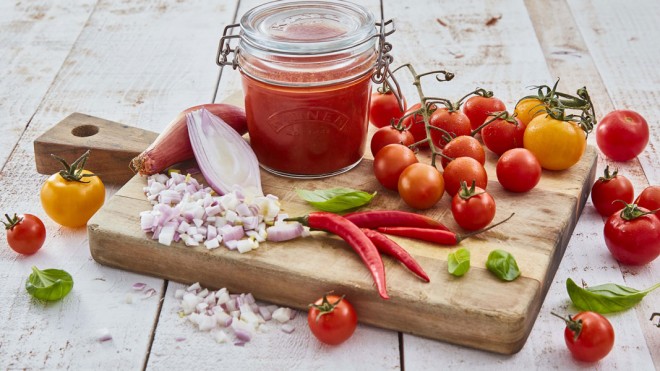 4 servings
30 minutes to cook, 10 minutes to prepare
Ingredients
500g mixed tomaotes, quartered
2 red chilli
4 cloves garlic
50ml white wine vinegar
100ml water
1tbsp caster sugar
Instructions
Perfect for using up any extra tomatoes, you could also throw in some red peppers or even courgettes and other green veg into this tomato passata – it's a great way of sneaking vegetables into meals for kids! Perfect with pasta or in any recipe that calls for a passata sauce.
This recipe also freezes well so you can make a big batch and freeze in small portions for later use. More flavourful tomatoes will yield tastier results, so take advantage of any best of season tomatoes.
Method
In a large heavy based sauce pan, cook the garlic and chilli in olive oil until soft, add the tomatoes and mix well. Turn up the heat and cook whilst stirring for 5 minutes until the tomatoes begin to break down and soften.
Turn onto a low heat, add the water, vinegar and sugar and simmer with a lid on for 15-20 minutes.
Press the mixture through a fine sieve using a ladle. Season well and stir in the herbs.