Tomato, Tapenade & Anchovy Tart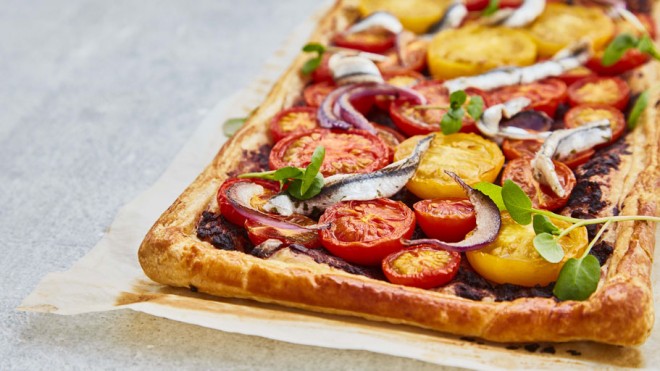 2 servings
30 minutes to prepare
Ingredients
200g ready made puff pastry
8 marinated anchovy fillets
3tbsp tapenade
150g best of season mixed tomatoes, halved
1/4 red onion, sliced and fried
Watercress to garnish
1 egg, beaten
Instructions
A super quick tomato tart, delicious made with best of the season tomatoes.
Roll the puff pastry into a rectangle, approximately 25cm x 15cm and use a fork to prick lots of holes up and down the pastry, this will help air escape and create an even rise.
Lay the pastry onto a baking sheet lined with baking paper. Brush the perimeter of the pastry rectangle with a little beaten egg and neatly fold over and press down each edge to create a border. Brush the border with beaten egg to glaze the pastry.
Use a palate knife to evenly spread over the tapenade and top with the tomatoes and onions. Bake in the oven at 180C / 350F / Gas Mark 4 for 15-20 minutes.
Remove from the oven and arrange the anchovies on top, allow to cool slightly before transferring to a serving dish and garnish with fresh watercress.