Turkey, Stuffing and Cranberry Sausage Rolls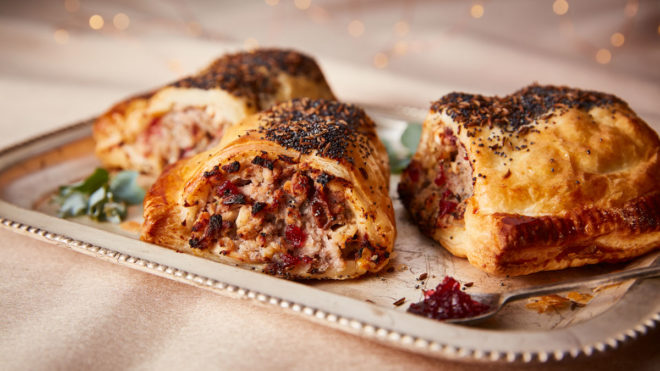 8 servings
40 minutes to prepare
Ingredients
200g cooked turkey meat, shredded
150g cooked stuffing
100g cranberry sauce
454g sausage meat
3x320g ready-rolled puff pastry sheets
1 egg, beaten
1tbsp poppy seeds
1tbsp caraway seeds
Instructions
Who doesn't love a sausage roll on the buffet table? Use up your festive leftovers with these beauties, filled with turkey, cranberry and stuffing.
Method
Pre-heat the oven to 200°C (fan)/425°F/gas mark 7.
Place the turkey meat, stuffing, cranberry sauce and sausage meat into a bowl. Mix well to combine.
Place the puff pastry sheets on a lightly floured work surface.
Divide the sausage mix in two. Spread half of the mix down the middle of one pastry sheet. Brush the bottom edge of the pastry with beaten egg and fold the pastry over the sausage meat filling. Press the edges of the pastry together to seal. Trim the excess pastry from the ends and along the sealed edge. Press down gently with a fork to seal the edge. Brush with beaten egg and scatter over half of the seeds. Repeat to make a second roll. Cut each roll into 4 and place on two baking trays lined with baking paper.
Bake in a pre-heated oven for 25-30 minutes until golden brown and cooked through.
Serve with a dollop of cranberry sauce.
Chefs Tip
This is a great way of using leftovers, swap the stuffing for black pudding and serve as a giant sausage roll for an easy Boxing Day lunch.