Turkish Style Eggs with Sourdough Toast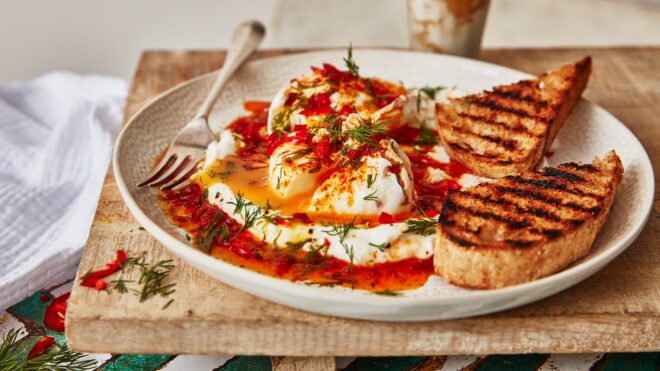 2 servings
15 mins to prepare
Ingredients
50g butter
1 large pinch of chilli flakes
1 large pinch sweet paprika
150g Greek (thick set) yoghurt
1 garlic clove, crushed
1 lemon, zest and juice
Salt and pepper to taste
4 slices of Sourdough
A drizzle of olive oill
2 garlic cloves (to rub on toast)
4 duck eggs
Dill
Instructions
METHOD
Melt the butter ina pan, add the chilli flakes and sweet paprika and keep warm.
Mix together the yoghurt, crushed garlic and lemon zest. Season to taste with salt and pepper.
Brush the slices of Sourdough with olive oil and then rub with a garlic clove.
Grill the bread in a pan until both sides are toasted and crisp.
Bring a pan of salted water to the boil, add some lemon juice (or white wine vinegar if you have it). It's best to use a tall pan and have it as full as possible.
Swirl the water to form a vortex and crack an egg into the middle. Repeat with the remaining eggs and cook until you have the desired runny middle. For a runny duck egg yolk cook for around 5-7 minutes.
Carefully remove the eggs from the pan and discard the water.
Place a large spoonful of yoghurt mix into the centre of your dish and spread.
Top with two poached eggs and spoon plenty of chilli butter over the top.
Garnish with chopped dill, a grind of pepper and serve with two slices of toasted Sourdough.
CHEF'S TIP
Take the chill out of the yoghurt and bring it to room temperature before you eat.