Vegan Pancakes with Butterscotch Sauce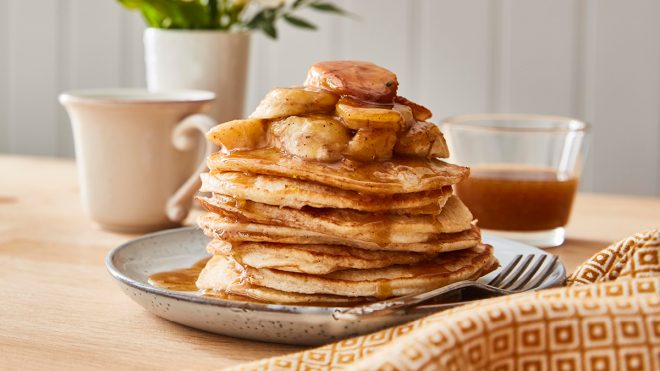 4 servings
5 mins to prepare
Ingredients
For the butterscotch sauce
50g vegan butter
25g soft brown sugar
Groovy Food Organic Agave Nectar Honey Flavour
125ml coconut milk
1/4 tsp mixed spice
A pinch of sea salt
For the caramelised bananas
Groovy Food Organic Agave Nectar Honey Flavour
2 bananas, sliced
For the pancakes
1 box of Superfood Bakery Pancake Mix
To Serve
A drizzle of Groovy Food Organic Agave Chocolate Sauce
Instructions
METHOD:
Make up the Superfood Pancake Mix as per the instructions and cook. Set aside and keep warm while you prepare the toppings.
Melt the vegan butter ina small saucepan over a medium heat.
Add the brown sugar and stir to dissolve.
Add the honey agave nectar, coconut milk and mixed spice. Stir to combine and bring to the boil. Boil for 5 minutes it until thickened and is a sauce consistency.
Add sea salt to taste.
For the caramelised bananas, heat the honey agave in a non-stick pan over a high heat. Add the sliced bananas and fry to caramelise on both sides.
Assemble your pancakes and top with the caramelised bananas and the spiced butterscotch syrup. For an extra decadent treat, add a drizzle of Groovy Food Organic Agave Chocolate Sauce.
CHEF'S TIP:
This spiced butterscotch sauce is so versatile, drizzle warm over ice cream, waffles or French toast – anything goes!