Warm Scallop, Black Pudding and Pear Salad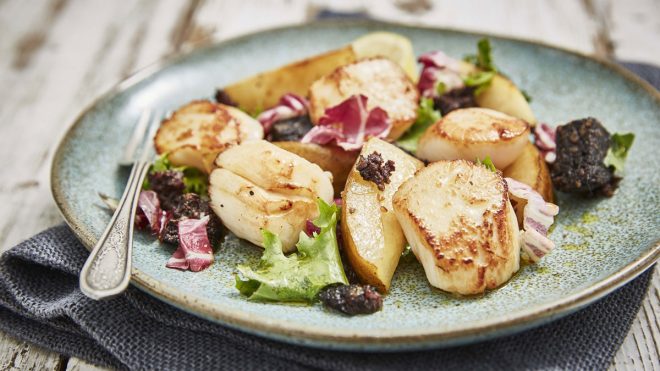 4 servings
15 minutes to prepare
Ingredients
200g black pudding, diced
20 fresh scallops
2 pears, quartered
2tbsp sherry vinegar
1 bag of mixed salad leaves, washed and ready to serve
1tbsp olive oil, plus extra for drizzling
10g unsalted butter
Instructions
A classic warm scallop salad that works well as a starter or as a light lunch.
Gently heat a non-stick frying pan. When hot, add the oil and black pudding then fry until just beginning to brown. Remove with a slotted spoon and set aside on kitchen paper.
Add the scallops to the pan and sear in the remaining oil for about 1 minute on each side. Remove and set aside with the black pudding.
Finally, add the butter and pear slices to the pan and fry quite briskly on both sides to caramelise a little. Once caramelised, add the vinegar and swirl the pears around in it for a few seconds, then into a bowl.
To serve, divide the salad leaves, caramelised pear, black pudding and scallops between four plates. Add a drizzle of olive oil to each, season with salt and serve immediately.
Chef's tip
This dish would also work well with Chorizo in place of the black pudding.