Pear & Vanilla Crumble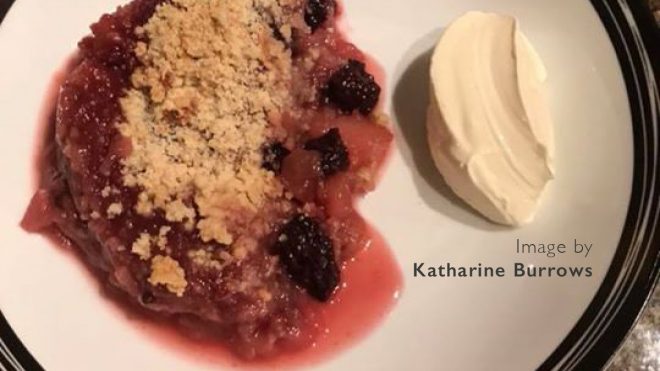 4 servings
25 minutes to cook, 10 minutes to prepare
Ingredients
6 conference pears, peeled, cored & diced
1tbsp vanilla extract
100ml pear cider or apple juice
1 pack green's classic crumble mix
20ml milk
100g walnuts, roughly chopped
2tsp ground cinnamon
2tsp ground mixed spice
1tsp ginger
For the spiced creme fraiche
200g creme fraiche
1/2tsp cinnamon
1/2tsp vanilla extract
Instructions
A super easy way to make a delicious seasonal pear pud! If you're a connoisseur of crumbles you could make your own instead of using the packet mix.
Method
Pre-heat the oven to 180°C (fan)/400°F/gas mark 6.
Place the diced pears into an ovenproof dish. Add the vanilla extract and pear cider. Set to one side.
In a separate bowl place the crumble mix, milk, chopped walnuts and spices. Mix to combine.
Scatter the crumble mix evenly over the pears and bake in a pre-heated oven for 20-25 minutes or until golden brown.
To make the spiced crème fraiche…
Mix all of the ingredients in a small bowl.
Serve the crumble warm with a dollop of spiced crème fraiche.
To make this recipe child friendly substitute the cider for apple juice.