Wicked Witch Cupcakes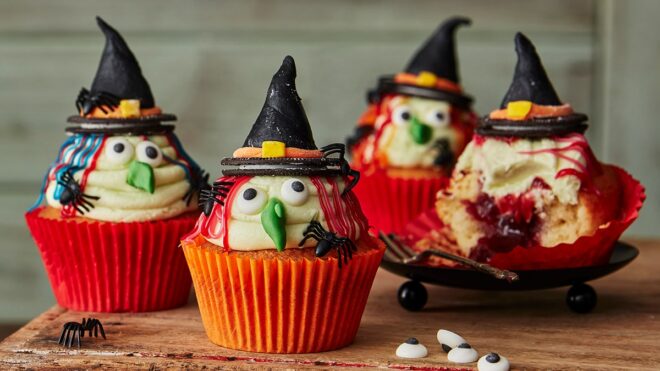 6 servings
60 mins to prepare
Ingredients
For the cake batter
100g self raising flour
100g salted butter, softened
100g caster sugar
1 tsp vanilla extract
2 free range eggs
For the filling
100g raspberry jam
For the buttercream
100g butter, softened
150g icing sugar
Green food colouring
Decorations
Black fondant
Yellow fondant
Green fondant
Oreo Thins
12 Candy Eyes
Instructions
METHOD
1 Preheat the oven to 180°C/160°C fan/gas 5. Line a muffin tray with 6 cupcake cases.
2 For the cake batter, whisk together the soft butter, vanilla and sugar until light and fluffy.
3 Add a beaten egg with a spoonful of flour until well combined, repeat with the other egg. Add the rest of the flour and mix until smooth.
4 Fill the cupcake cases evenly with the batter. Bake in the oven for 12 minutes.
5 Remove from the oven and tray, cool on a wire rack.
6 For the filling, cut out a spoonful of cake from the middle of each cupcake and fill with a blob of jam.
7 For the buttercream, whisk the butter and add the icing sugar slowly until light
and fluffy. Then add the green colouring until the desired spooky shade!
8 Pipe the buttercream onto the cool cupcakes.
9 For the witches hats, shape a cone of black fondant and stick to an Oreo. Add details to the hat with yellow fondant (see photo).
10 Add some eyes and a wonky nose made from green fondant for the scary
witches face.