Dry January OR Ginuary?
Written on January 8th, 2019
---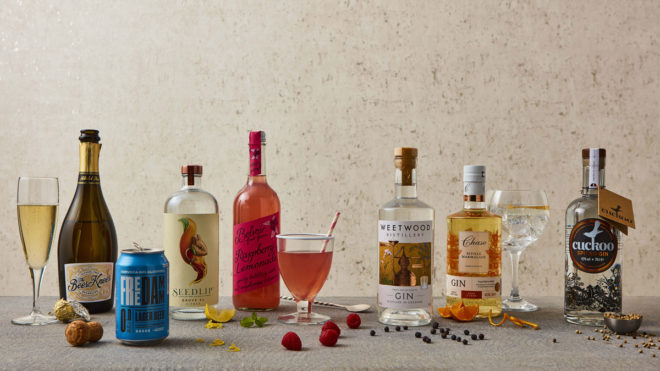 Whether you're taking part in #DryJanuary after all of the festivities, or indulging in #Ginuary and exploring the glorious gins available this January, we have something for you. From refreshing, bubbly, non-alcoholic wine to mocktail ideas that are a little bit special – staying alcohol free certainly isn't boring!
#DryJanuary
Alcohol free selection – the Buyer's choice.
The Bees Knees Non Alcoholic Wine 75cl
This refreshing alcohol-free wine is a finely balanced combination of fermented sparkling grape juice and premium green tea infusion, with a generous head of bubbles.
£3.50 or 2 For £6 Offer ends 22/01/2019
Estrella Free Damm 6x330ml
This premium quality, alcohol free lager is a great alternative and pretty close in taste to the original Estrella Damm lager. Best served ice cold.
£4.00 Offer ends 22/01/2019
Seedlip Grove 42 70cl
A zesty and complex, citrus-forward blend of three types of orange and uplifting spices. Simply serve with tonic and a twist of orange peel.
£21.00 Offer ends 22/01/2019
Belvoir Raspberry Lemonade 750ml
Made using real pressed raspberries and lemon juices blended with spring water to give a refreshing alternative to traditional lemonade.
£3.00
#Ginuary
Pete our beer and spirits buyer has hand-picked these gins especially for you.
Weetwood Gin 70cl
Distilled and bottled in Cheshire, this artisanal London Dry gin is mossy with sweet spices dipped in tangy citrus and wrapped in a rich dark chocolate flavour. Serve with a classic tonic over ice.
£30.00
Offer ends 22/01/2019
Chase Seville Marmalade Gin 70cl
Handmade in Herefordshire, this zingy and crisp gin is filled with an abundance of fresh Seville oranges. Perfectly served as an orange martini .
£40.00
Cuckoo Spiced Gin 70cl
Locally sourced and home grown ingredients are at the heart of this Lancashire gin. With notes of black pepper, fresh ginger, jasmine and orange. Serve with ginger ale, a sliver of ginger and orange peel.
£36.00
Prices are subject to change, and are correct at time of writing. While stocks last. We recommend you check before travelling for any specific products. Find your nearest store by tapping the button below.