Autumn Maple & Pear Mule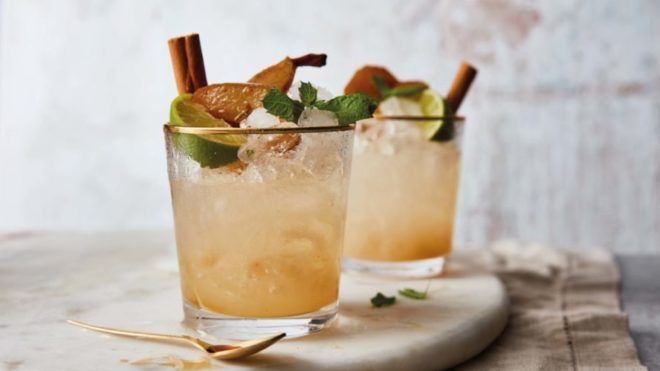 1 servings
10 mins to prepare
Ingredients
250ml ginger beer
60ml vodka
2 limes, squeezed
1 mint sprig
For the purée
4 pears
4tbsp maple syrup
1tsp ground cinnamon
2tsp vanilla extract
To garnsih
Crushed ice to fill each glass
1 lime, quartered
2 cinnamon sticks
2 sprigs of mint
Sprinkle of ground cinnamon
Maple Syrup
Instructions
METHOD
1 Cut the pears into quarters removing the cores.
2 To make the maple and pear purée, heat a non stick frying pan over a medium to low heat and cook the ingredients with a splash of water, for 8 minutes until the pears soften.
3 Keep 4 pear segments to one side for garnish. Take the remainder of the pears and blend.
4 Place 4 tbsp of the pear purée plus all of the shaker ingredients into the shaker with a couple of ice cubes and shake well before pouring into two tall glasses over the crushed ice.
5 Garnish each cocktail with a cinnamon stick, lime wedge, two maple pear segments and finish with a sprig of mint, dusting of ground cinnamon and a drizzle of maple syrup.