Avocado and Black Bean Breakfast Tacos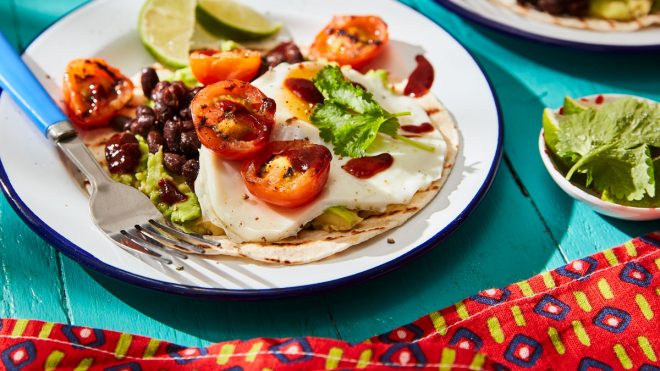 4 servings
13 minutes to prepare
Ingredients
400g tin black beans, drained & rinsed
1tbsp chipotle sauce
Drizzle olive oil
4 eggs, fried
100g cherry tomatoes, halved
4 tortilla wraps
1 avocado, sliced
20g coriander
4 lime wedges
Drizzle chipotle sauce
Instructions
These avocado and black bean tacos are perfect for a hearty summer breakfast, brunch or lunch, and this recipe can easily be adapted to cook over the campfire.
Method
Place the black beans and chipotle sauce into a saucepan, warm over a medium heat.
Heat a drizzle of olive oil in a frying pan over a medium heat, fry the eggs and set to one side.
Heat a griddle pan over a high heat. Place the cherry tomatoes cut side down on the griddle for 2 minutes, remove and set to one side.
Griddle the tortilla wraps in batches on one side only.
To serve, place a tortilla wrap griddle side up on a serving plate. Top with the avocado slices and crush lightly using a fork. Top with the chipotle black beans, a fried egg and a spoonful of cherry tomatoes.
Garnish with fresh coriander, lime wedges and an extra drizzle of chipotle sauce
Chefs Tip
These make a great breakfast on the go. Roll the filled tortilla wraps and wrap in tin foil. If chipotle sauce is too spicy for children, swap for BBQ sauce.