Bavarian Inspired Brunch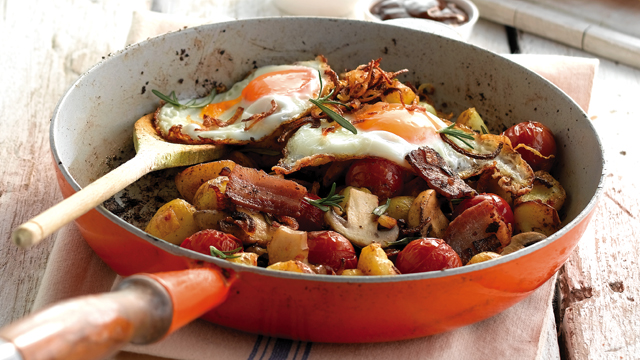 4 servings
35 minutes to prepare
Ingredients
250g Cyprus potatoes, cooked and cut into quarters
4 rashers of smoked streaky bacon cut into large chunks
1 onion, finely sliced
5 mushrooms, sliced
½tsp rosemary
8 cherry tomatoes
2 free-range eggs
3tbsp olive oil
Instructions
The first thing you need to do is add 1tbsp of the olive oil to a frying pan and add half of the onion. Fry the onion until brown and crisp over a low heat, taking care not to burn them. They should be dark brown, not black, making sure you turn them every so often. Drain on to kitchen roll.
In the same pan, add another tablespoon of olive oil. Increase the heat to medium hot, add the potatoes and fry until they start to colour. At this stage add the remaining onion and continue frying.
After 2-3 minutes add the bacon and again continue frying until things really start crisping up. Now add the mushrooms, cherry tomatoes and rosemary, shake the pan every so often and fry for about 3-4 minutes. Season with salt and milled pepper then transfer to a warm serving plate.
In the same pan with all the juices add the last of the olive oil and fry the eggs to your liking. Place the eggs on the potatoes, sprinkle over the crispy onions and serve with a bottle of brown sauce!