Bax Botanics Non-Alcoholic Cherry Gin Rickey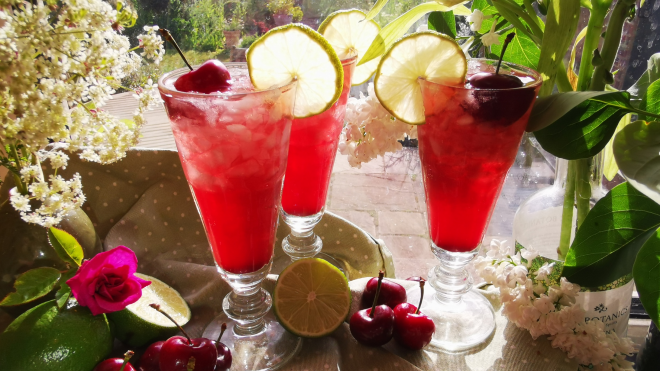 2 servings
30 mins to prepare
Ingredients
For the Syrup
250g fresh cherries (use frozen or tinned if not available)
Sugar
For the Cocktail
80ml Bax Botanics Verbena
40ml fresh lime juice
12 fresh mint leaves
30ml cherry syrup
Crushed ice
To Garnish
Fresh lime, cherries and mint leaves
Instructions
The classic Gin Rickey combines gin, lime juice and cherry syrup with a splash of lemonade. Swapping out the gin for the Bax Botanics Verbena gives delicious and unique freshness to the cocktail and balances the tartness of the cherries.
If you do happen to be reading this out of season you can still make the syrup with frozen cherries, it still works beautifully!
METHOD (Syrup)
Remove the stones from the cherries and cook gently in a small amount of water until the fruit is soft.
Strain through a fine sieve into a clean pan, add some sugar to sweeten, but not too much so to keep the sour taste from the cherries.
Heat until the sugar dissolves and the liquid has thickened slightly.
Store in the fridge for up to a week.
METHOD (Cocktail)
Fill two of your favourite glasses with crushed ice.
Combine all the cocktail ingredients in a jug, add to the glasses and top up with a bit of soda water if you prefer.
Garnish with lime and cherries.