The Boho Baker's Golden Prosecco Pavlova Wreath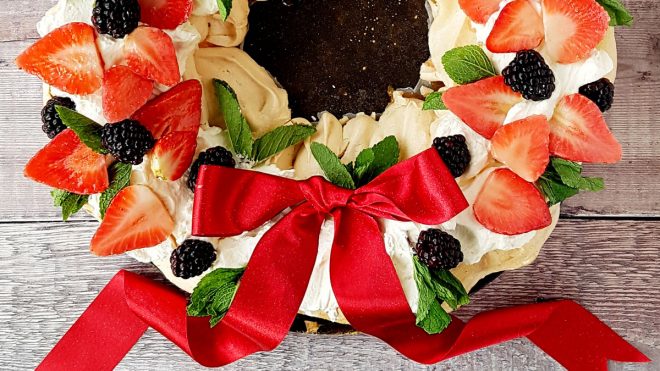 12 servings
1 hour to cook, 30 minutes to prepare
Ingredients
For the Meringue
6 large egg whites
300g golden caster sugar
1tsp corn flour
1tsp white wine vinegar
For the Topping
250g mascarpone cheese
450ml whipping cream
40g white caster sugar
1tsp vanilla extract
1tsp Booths Prosecco
For Decoration
225g fresh strawberries
150g fresh blackberries
400ml Booths Prosecco
Small bunch fresh mint
Instructions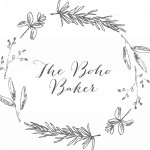 The Boho Baker describes herself as "Baker. Writer. Forager. Wanderer. Organic ingredient and edible floral Enthusiast. Member of the Guild of Food Writers." Very local to our HQ in Preston, she's kindly agreed to do a series of recipes for us, celebrating the best of our local produce. Follow her on instagram @thebohobaker
This make/bake ahead dessert is a real showstopper that will save you a lot of time over the holiday season. The fruit topping is soaked in Booths Prosecco overnight, arming the humble berries with a real citrus kick. The meringue base can be made up to a week in advance, whilst the cream and fruit toppings can be prepared the day before and left in the fridge overnight, making this eye-catching dessert nothing but a five minute construction job on Christmas Day.
Method:
Set your oven to 165C/325F/Gas mark 3. Crack the egg whites into a mixing bowl and whisk on a medium speed until soft peaks are formed. Increase the speed and add the sugar a spoonful at a time until the mixture is glossy and stiff (if you were to flip the bowl upside down, it shouldn't slip out or move). Mix the cornflour and white wine vinegar together in a separate dish, then pour it into the meringue mix and gently fold in.
Line a baking sheet with a piece of greaseproof paper and place a small saucer in the middle as a guideline if needed. Start to transfer the meringue to the baking sheet, either around the saucer or freehand, leaving a space in the middle. Run the back of a tablespoon around the meringue to create a moat for the cream to set in later. Place in the oven, shut the door, and immediately decrease the heat setting to 135C/275F/Gas mark 1. Leave to bake for one hour, then switch the oven off and leave the meringue inside to dry out for at least an hour (but preferably overnight).
Slice up the strawberries and pop them in a bowl with the blackberries before covering them in lashings of prosecco. Ideally, you want enough prosecco to cover the berries entirely, so you may find yourself needing slightly less or slightly more, depending on how chunky your berries are. Cover the bowl and leave to soak overnight.
To prepare the cream filling, combine the mascarpone, whipping cream, vanilla, and prosecco in a bowl before blitzing them together using a handheld mixer. Continue to whisk until the cream is thick and peaks remain when you remove the mixer from the bowl.
To serve, scoop the mascarpone cream filling on top of your golden meringue. Decorate using the prosecco soaked fruit and a few fresh mint leaves before finishing it off with a nice jolly bow.
Hints/Tips/Troubleshooting:
The meringue base can be made up to a week before. Just wrap it in greaseproof paper and keep it in an airtight container until you are ready to serve.
If you're really feeling indulgent, a drizzle of dark chocolate over the top would be delicious. Just melt 50g good quality dark chocolate in a microwave and drizzle over the top using the end of a spoon.