BBQ Gammon and Pineapple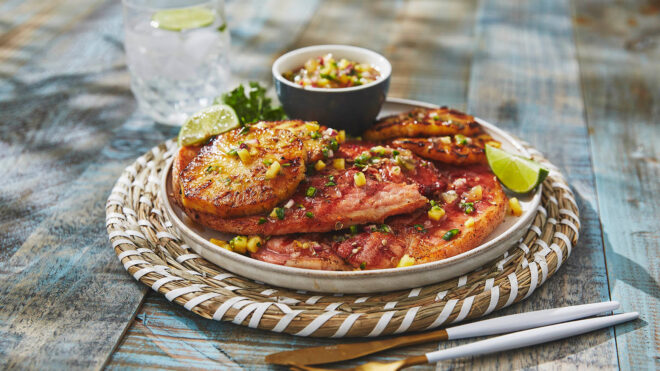 2 servings
20 minutes to prepare
Ingredients
2 x 200g gammon steaks
2 slices fresh pineapple
25ml vegetable oil
For The Pineapple Chutney:
1/2 red onion, finely diced
1 lime, juice and zest only
100g mango chutney
100g fresh pineapple, diced
1 jalapeño chilli, finely diced
1 handful coriander, chopped
Instructions
Method:
1. Pre-heat the BBQ.
2. Brush the gammon and slices of pineapple with a little oil and chargrill for 2-3 minutes on each side and keep warm.
3. For the pineapple chutney, mix together the diced red onion, lime zest and juice, mango chutney, diced pineapple, jalapeño and coriander.
4. Spread with the pineapple chutney and serve with sweet potato wedges seasoned with chilli salt.
Chef's Tip
Here is a spin on this retro classic. Cut fingers of pineapple and wrap with smoked streaky bacon. BBQ them until caramelised and garnish with the pineapple chutney. Perfect for enjoying with summer margaritas.