Saltaire Blonde, Jalapeño & Cheddar Beer Bread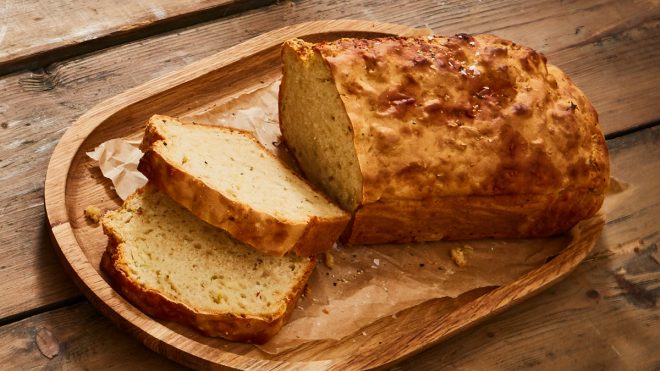 6 servings
60 minutes to prepare
Ingredients
270ml Saltaire Blonde Beer
300g Plain Flour
1 1/2 tsp Baking Soda
Pinch of Sea Salt
28g Soft Brown Sugar
20g Pickled Jalapeños jarred
45g Grated Mature Cheddar Cheese
Instructions
Turn a bottle of beer into a delicious loaf in just an hour!
Preheat the oven to (190 Degrees C, 375 Degrees F, Gas Mark 5), grease and line a loaf tin.
Add all the dry ingredients into a bowl or mixer and lightly mix. Set to one side.
Add the pickled jalapeños to a blender and blend for a few seconds until coarsely chopped. You can also do this by hand.
Add the jalapeños and the grated mature cheddar cheese to the dry ingredients.
Pour in the beer and stir till all ingredients are combined.
Transfer the mix to the loaf tin and tap lightly on a hard surface to level out.
Place on the middle shelf of oven and bake for 45-50 minutes. To check it is cooked in the middle place a wooden skewer in the centre, it should come out clean with no streaks of batter.
Chef's Tip
Do not over mix the batter as you will increase the gluten giving you a denser/tougher bread. Also, if the jalapeños are a too hotter option for you why not replace with pickled gherkins.