Bloody Mary Rump Steak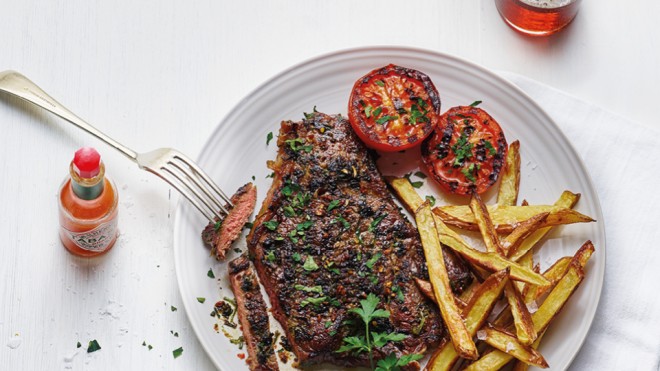 2 servings
10 minutes to prepare
Ingredients
2 x 250g rump steaks
zest of 1 lemon
1 pinch sea salt
3tbsp The Great British Butcher Bloody Mary Rub
3tbsp fresh flat leaf parsley, chopped
1tbsp olive oil
400g red skinned baking potatoes
1tbsp olive oil
1tbsp finely chopped fresh rosemary
Instructions
1 Place the lemon zest, sea salt, Bloody Mary Rub, flat leaf parsley and oil into a shallow dish and mix together well. Press the rump steaks into the mixture and rub into both sides until completely covered. Set aside.
2 Preheat the barbecue and wait until the coals have turned an ash grey colour to give a medium temperature. Meanwhile, for the fries, cut the potatoes, with their skin on, into 1cm skinny fries, rinse well and pat dry with a kitchen towel. Place the olive oil into a shallow roasting tray and toss the chips in the oil. Place the roasting tin on the barbecue, close the lid and roast for 10 minutes. Add the rosemary and cook for a further 10 minutes with the lid off until golden and crispy.
3 Place the steak on the barbecue and cook for just 3 minutes each side for a medium rare steak. Alter the cooking time depending on how you like it cooked. Transfer the steaks to serving plates and serve with the rosemary fries.
If you have to move your barbecue indoors simply preheat the oven to 200˚C / fan 180˚C / gas mark 6. Place the fries in a roasting tin and cook in the oven for 10 minutes, then add the rosemary and cook for a further 15 minutes until the fries are crunchy and golden.
For the steaks, preheat a griddle pan on the hob and cook the steaks for about 3 – 4 minutes each side, depending on how you like your steak.
Why not add griddled vine ripened tomatoes and a simple rocket and watercress salad?
The optimum time and temperature varies by individual ovens – these are guidelines only. Please ensure all cooked recipes are served piping hot. Keep raw meat separate from cooked food. Use separate kitchen utensils and surfaces for raw and cooked foods, or wash thoroughly in between use. Wash hands after handling raw meat. Some products may only be available in our larger stores. All content © Booths 2015.