Boxing Day Soup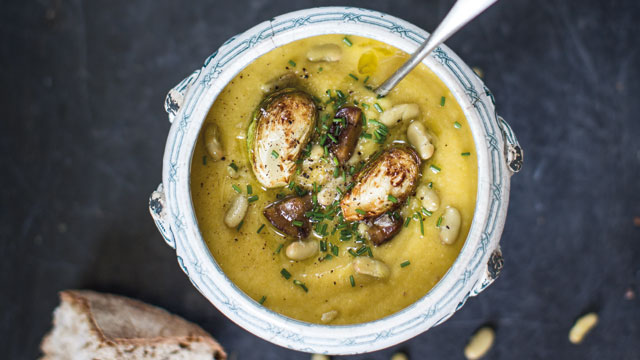 6 servings
35 minutes to prepare
Ingredients
1 tbsp olive oil
1 medium onion, finely chopped
1 garlic clove, crushed
1 tsp thyme leaves
1 large potato, peeled and cubed
500g leftover Christmas vegetables,roughly chopped (sprouts, carrots, parsnips and squash are good)
1.2ltr turkey or vegetable stock
400g tinned flageolet beans, washed and drained
1 tsp chopped fresh chives
Salt and miled pepper
Instructions
1 Fry the onion gently for a few minutes in the olive oil.
2 Add the garlic, thyme and potato, fry for another minute before adding the leftover vegetables and stock.
3 Bring to a gentle simmer and cook for 10 minutes.
4 Blend it all up until it's smooth.
5 Put the mixture back on the heat, add the flageolet beans and chopped chives, and season with salt and miled pepper.
6 Simmer for 5 minutes.
7 Serve with warm crusty bread and softened butter.