Carole's Caramel Shortbread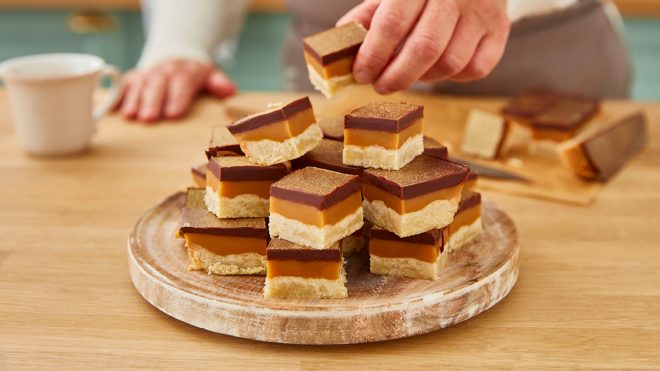 16 servings
30 minutes to prepare
Ingredients
For the shortbread
225g plain flour
175g Booths salted butter
75g sugar
For the caramel
150g Booths salted butter
1 can of condensed milk
100g golden syrup
To decorate
400g milk chocolate
~Edible gold glitter to decorate
Instructions
METHOD
Pre-heat the oven to 180°C/ 160°C fan/ gas mark 4.
To make the shortbread, mix the plain flour, butter and sugar together. Press evenly into a rectangualr lined baking tray and bake in the oven for 20 minutes. Leave to cool.
To make the caramel, place the butter, condensed milk and golden syrup into a pan and simmer for 15 minutes.
Place the caramel onto the shortbread and leave to set in the fridge.
Once the caramel has set, melt the chocolate in a microwave for two minutes. Spread over the top of the caramel shortbread then decorate with edible gold glitter.
Leave to set, then cut up into squares.