Carrot Fritters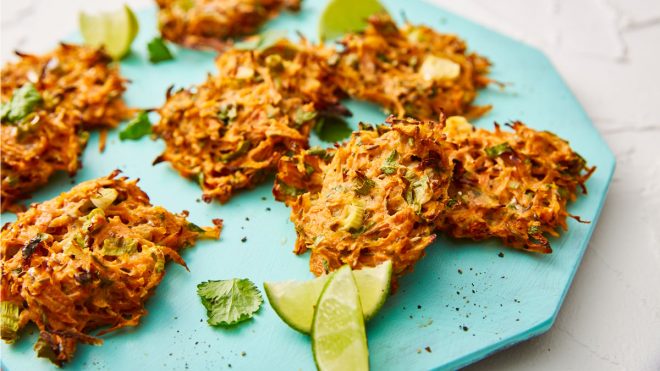 12 servings
30 minutes to prepare
Ingredients
400g carrots, grated
2 cloves garlic, crushed
1tbsp cumin seeds
3tbsp coriander seeds
3 spring onions, finely chopped
75g plain flour
2 egg whites
Salt & pepper
To Serve
Lime wedges
Coriander
Instructions
An easy carrot fritter dish that's lots of fun to make with the little ones, or as a lighter accompaniment to curry night in place of onion bhajis.
Method
Pre-heat the oven to 180°C (fan)/400°F/gas mark 6.
Line 2 baking trays with baking paper.
Place all of the ingredients for the fritters into a bowl and mix well to combine.
Divide the mix into 12 evenly sized fritters.
Place the fritters onto the baking trays and flatten slightly using the palm of your hand.
Bake in a pre-heated over for 20-25 minutes until just golden brown around the edges.
Serve with lime wedges and coriander to garnish.
Chef's Tip
Serve as a light meal with a poached egg. They are delicious eaten warm or cold so make great lunch box snacks too!