Carrot Patch Cupcakes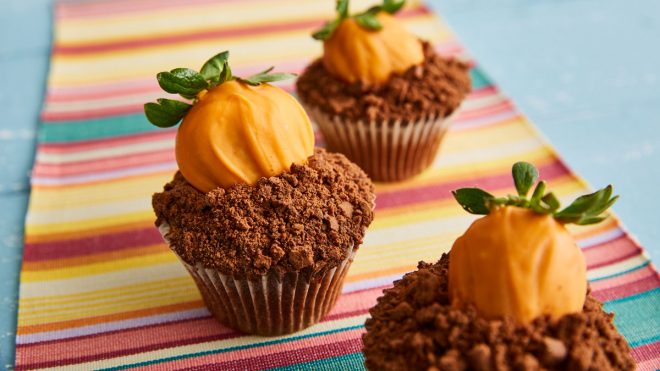 12 servings
45 minutes to prepare
Ingredients
FOR THE CUPCAKES
175g margarine
175g caster sugar
150g self raising flour
25g cocoa powder
3 eggs
FOR THE BUTTERCREAM
100g butter, softened
150g icing sugar
50g cocoa powder
2tbsp milk
TO DECORATE
6 bourbon biscuits
6 strawberries
100g white chocolate
1tbsp vegetable oil
Orange food colouring
Instructions
A fun chocolate cupcake activity to make with the little ones, that looks like a real carrot growing in the garden! The beauty of this one is that you can buy pre made chocolate cupcakes and buttercream if baking from scratch is a little too much.
Method
To make the cupcakes
Pre-heat the oven to 160°C (fan)/350°F/gas mark 4 and line a 12-hole muffin tin with paper muffin cases.
Place the margarine, sugar, flour, cocoa powder and eggs into a mixing bowl. Beat to combine using an electric mixer.
Divide the mix evenly between the muffin cases and bake in the pre-heated oven for 25-30 minutes. To check the cupcakes are cooked, insert a skewer into the centre, it should come out clean when cooked.
Remove and allow to cool for 10 minutes in the tin before placing on a cooling rack to cool completely.
To make the buttercream
Place the softened butter into a large mixing bowl, sift the icing sugar and cocoa powder into the bowl. Add the milk and beat to form a smooth icing.
To decorate
To make the soil, place the Bourbon biscuits into a freezer bag and crush using a rolling pin. Tip into a bowl and set to one side. Eat the extra biscuits from the pack.
Place the melted white chocolate into a small bowl, add the vegetable oil and a couple of drops of orange food colouring and mix well.
Line a small tray with baking paper. Slice each strawberry in half lengthways, leaving the green top in tact. Holding the strawberries by their green tops dip each one into the orange white chocolate and place on the lined tray. Place in the fridge for 10 minutes to set.
Using a teaspoon, remove a core of sponge from each cupcake about the size of each strawberry half. Nibble on these offcuts as you continue to decorate your cupcakes.
Spread the top of each cupcake with buttercream – spread in the hole but don't fill it as that's where your carrot will sit. Dip the top of each cupcake into the crushed biscuits.
Decorate each cupcake by placing a strawberry carrot in the centre hole of each cupcake.