Cheesy Stuffed Doughballs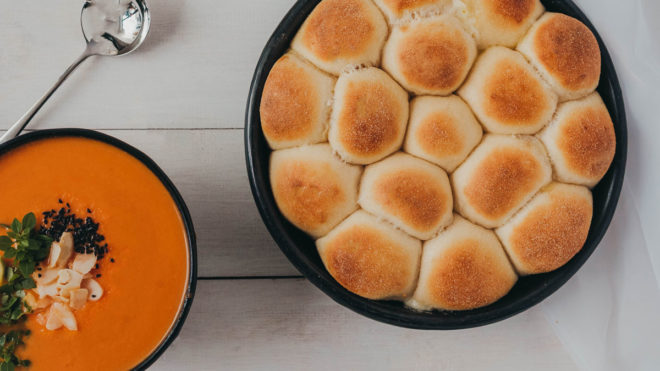 4 servings
1 hour to prepare
Ingredients
2 balls Northern Dough Co Original Pizza Dough, defrosted (find it in the frozen aisle)
2 packs mini mozzarella balls
1 pack Booths grated mozzarella
Semolina flour for dusting
Garlic infused or plain olive oil
To Serve
Your favourite soup (we love Booths fresh tomato soup)
Instructions

The Northern Dough Co. have created a series of seasonal guest recipes for us, all focussed on bringing the family together in the kitchen and adding a pizza positivity to your winter. The Lancashire based family company make 100% natural pizza dough, which you'll find in the freezers in store.
Enter our competition to win yourself a personalised pizza party prize package courtesy of The Northern Dough Co. by tapping here.
THE COMFORTING ONE
"Oozy, melty, cheesy dough balls, dunked into a big steaming bowl of your favourite soup, is there anything more comforting on a cold Winter day? We use two types of mozzarella for extra flavour and stretch, but you can supplement for your favourite cheese from the deli counter."
Pre-heat your oven to its hottest setting, and lightly flour your worksurface with semolina flour (which adds a lovely crunch to your dough balls).
Divide each dough ball into eight roughly equal pieces so you have 16 small pieces of dough in total. Taking each piece one at a time, flatten to a rough circle (you can use a rolling pin if needed, or just flatten with your hands) until its approx. 5cm wide.
Place two mozzarella balls in the centre, then add ½ tablespoon of grated mozzarella, and gather the edges of the dough around the filling, pinching as you go until you have a ball shape. Roll the dough ball between your palms a few times until you have a ball shape.
Repeat with the rest of the dough balls. Sprinkle semolina (or regular plain flour) into an oven proof baking dish, then place your doughballs into it, starting with one in the centre, then circles around the outside. They will rise in the oven, so place them so they're touching, but not too tightly.
Brush with the oil then move to the hot oven and bake for 20-25 mins until the dough balls have turned a golden brown.
Remove from the oven and allow to cool for 10 mins as the cheese will be very hot. Serve, dunk and relax!