Easter Egg Cake Pops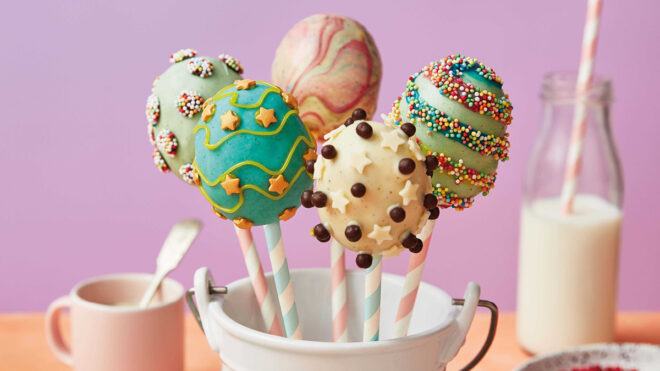 10 servings
60 mins to prepare
Ingredients
1 Betty Crocker Red Velvet cake mix or a ready-made sponge of your choice
1/3 tub ready-made vanilla buttercream frosting
2x150g bars of white chocolate
Sprinkles (lots of variety!)
Food colouring gels
Chilled paper straws
Instructions
METHOD:
1. For the red velvet cake, follow the pack instructions, bake and cool.
2. Crumble the sponge between your fingers until you get a fine breadcrumb consistency.
3. Add the buttercream and mix until it comes together.
4. Mould the cake mix into egg shapes. Use an ice-cream scoop to make them evenly sized, and put in the freezer for 1 hour.
5. After 1 hour, melt the chocolate. If you would like to, add some of the food colouring gels for colour.
6. Put the egg-shaped cakes on to the chilled straws and dip into the melted chocolate until they are fully coated then allow to set, they will set quite quickly.
7. Dip the cakes into the melted chocolate again and decorate with your various sprinkles. If your sprinkles are large carefully dip some melted chocolate on the egg and press the sprinkles on.
CHEF'S TIP:
You could create interesting marble effects on the eggs by using a mix of coloured melted chocolate to coat them.