White Chocolate Speckled Cake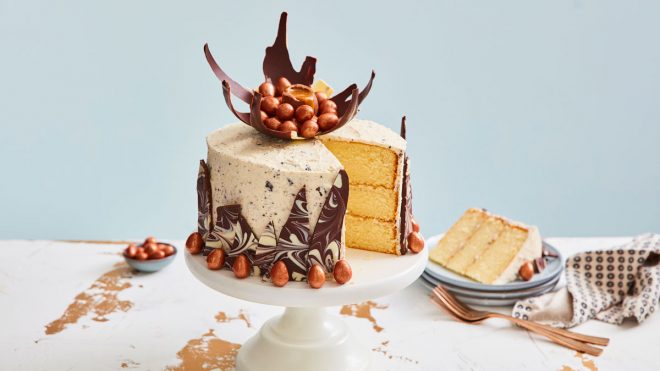 12 servings
40 mins to prepare
Ingredients
For the sponge
340g butter, softened
600g caster sugar
9 egg whites
600g plain flour
3 1/2 tsp baking powder
1/2 tsp salt
11/2 tsp vanilla extract
425ml whole milk
90ml vegetable oil
To decorate
A little vegetable oil for brushing
300g dark chocolate, melted
100g white chocolate, melted
1 balloon to make your chocolate basket decoration
200g small chocolate eggs
For the buttercream
250g butter, softened
500g icing sugar
150g white chocolate, melted
25g Oreos, crushed
Instructions
METHOD:
For the sponge, pre-heat the oven to 160°C (fan)/180°C/gas mark 4.
Place the butter and sugar into the bowl of a stand mixer. Beat for 5 minutes. Slowly add the egg whites, mixing to prevent curdling.
Sift the flour, baking powder and salt into a large bowl.
Mix the vanilla extract, milk and vegetable oil in a separate jug.
Turn the mixer to a low speed, add half of the sifted flour and mix lightly. Add half the milk mixture and mix again. Add the remaining sifted flour, mix lightly and follow with the remaining milk.
Line 3 x 18 cm loose bottomed round cake tins with baking paper. Divide the mix evenly between the tins. Bake for 50 minutes or until a skewer inserted comes out clean. Once cooked, allow to cool in the tins before removing and inverting onto a cooling rack.
For the chocolate decorations, inflate the balloon about half full then carefully wash it and lightly brush with oil. Place in a measuring jug to stabilise. Spoon a tablespoon of melted dark chocolate onto the balloon allowing it to drip down the sides. Repeat with the melted white chocolate. Spread the chocolate a little to create a base for your basket. Repeat using a tablespoon of each chocolate then place the balloon in the measuring jug and leave in the fridge to set for at least 1 hour.
For the chocolate shards, line a baking tray with baking paper then pour the remaining dark chocolate onto the tray and smooth thinly. Dot the melted white chocolate on top and swirl with a cocktail stick. Place the tray into the fridge to set for a minimum of 1 hour.
For the buttercream, mix the butter and icing sugar until smooth. Add the melted white chocolate and mix well. Add the crushed Oreos and stir in carefully.
Place a sponge onto a cake stand, add a spoonful of buttercream and spread. Build your cake with the second and third layers with a spoonful of buttercream in-between each layer.
Use the remaining icing to ice the top and sides of your cake. Smooth with a palette knife.
Remove the balloon from the fridge. Pinch the top of the balloon and make a small hole to slowly release the air. Carefully peel the chocolate basket away from the balloon. Place the basket back in the fridge.
Remove the marbled chocolate from the fridge, peel away the baking paper and break into shards which will be used to decorate the sides of your cake.
Decorate the sides of your cake with chocolate shards and mini chocolate eggs. Place your chocolate basket on top of your cake and fill with chocolate eggs. Store in a cake tin and eat within 3 days.