Elderflower Gin & Tonic Sorbet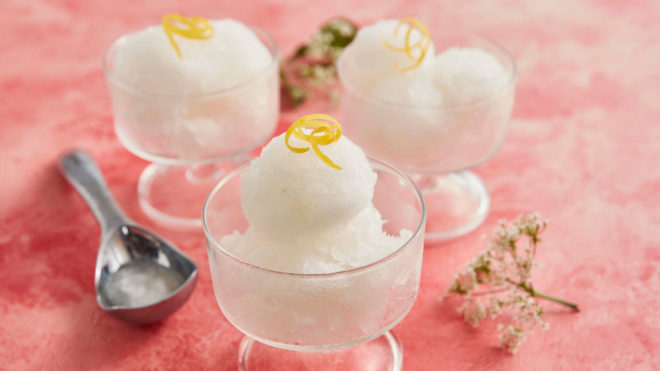 6 servings
5 mins to prepare
Ingredients
300ml water
300g caster sugar
2 lemons, zest and juice
500ml tonic water
100 ml elderflower cordial
3 tbsp gin
Extra lemon zest to garnish
Instructions
METHOD
1 Place the sugar into a saucepan; add 300ml of water and the zest of 2 lemons. Bring to the boil stirring to help dissolve the sugar.
2 Remove from the heat and add the lemon juice, tonic water, elderflower cordial and gin.
3 Pour into a loaf tin and allow to cool.
4 Place the tin in the freezer and freeze for 4 hours. Break up the ice crystals using a fork and freeze for a further 4 hours.
5 To serve, spoon into chilled glasses and garnish with extra lemon zest.