English Strawberry and Mascarpone Tart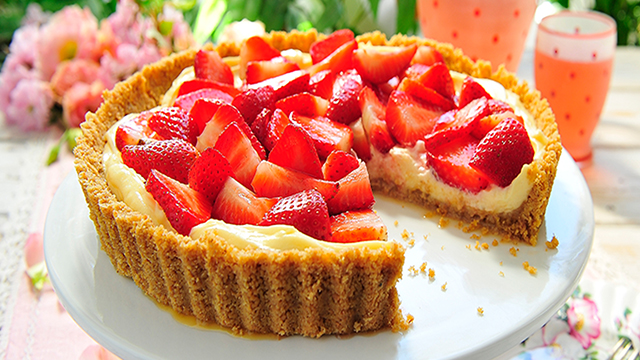 8 servings
55 minutes to prepare
Ingredients
Main Ingredients
250g digestive biscuits
75g melted butter
Zest of 1 lemon
300g strawberries
1tsp icing sugar
250g mascarpone cheese
100ml whipping cream
1 egg, separated
1/2tsp vanilla extract
1tbsp caster sugar
Instructions
Place the biscuits into a food processor and blend until you have a fine crumb. Alternatively you can put the biscuits into a plastic bag and crush with a rolling pin.
Mix the biscuits with the melted butter and lemon zest then spoon into a loose-bottomed flan tin. Pressing the crumb firmly over the base and up the sides. Place in the fridge and leave to set for 30 minutes whilst you make the filling.
Slice the strawberries in half or quarters and pop into a bowl. Sprinkle over the icing sugar, mix and leave to macerate.
In a large mixing bowl whisk the egg yolk and caster sugar until fluffy and pale in colour. Now beat in the mascarpone cheese, vanilla and whipping cream until smooth.
In a clean bowl whisk the egg white until stiff peaks form. Gently fold the egg white into the mascarpone mixture, and then spoon into the biscuit base levelling off the top.
Leave the tart to chill, 20 minutes before you're ready to serve take the tart out of the fridge and place onto a serving plate. The tart is quite delicate so take care when removing it from the flan tin.
Spoon over the strawberries and juices then show the tart to your guests, slice
and enjoy.