Flip Flop Cookies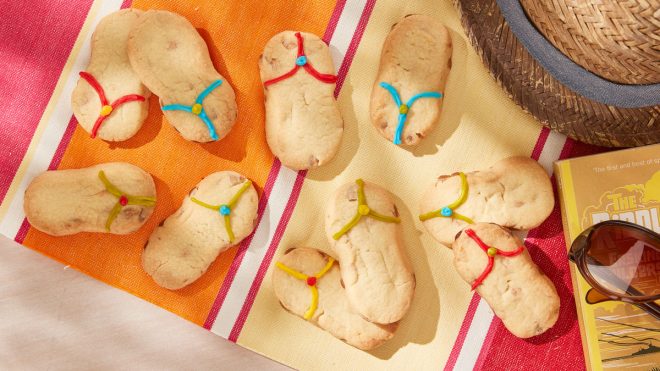 10 servings
30 minutes to prepare
Ingredients
100g butter, softened
50g caster sugar
1tsp vanilla extract
175g plain flour
50g white chocolate chips
Flour to dust
To Decorate
Dr Oetker Writing Icing pens
Instructions
A brilliant basic cookie recipe, with a twist of summertime fun for little hands to make!
Method
Pre-heat the oven to 160°C (fan)/350°F/gas mark 4.
Cream the butter, sugar and vanilla extract in a mixing bowl until pale and fluffy.
Add the flour and chocolate chips, stir well before using your hands to bring the mix together to form a dough.
Lightly dust a work surface with flour. Roll the dough to approximately 1 cm thick and using a 6cm round cutter cut 10 cookies re-rolling the dough if necessary.
Shape each cookie into a flip flop shape by flattening 2 sides of the round.
Line a baking tray with baking paper and place each shaped cookie onto the tray.
Bake in a pre-heated oven for 20 minutes or until very lightly golden brown around the edges.
Remove from the oven and allow to cool completely on the tray.
To decorate, pipe a 'V' at the end of each cookie and decorate to create your flip flop!
Chefs Tip
This is a great base cookie recipe. Use it to create different shapes using different cookie cutters. Create a new flavour combination by swapping the vanilla extract for orange flavouring and use dark chocolate chips.