French Onion Soup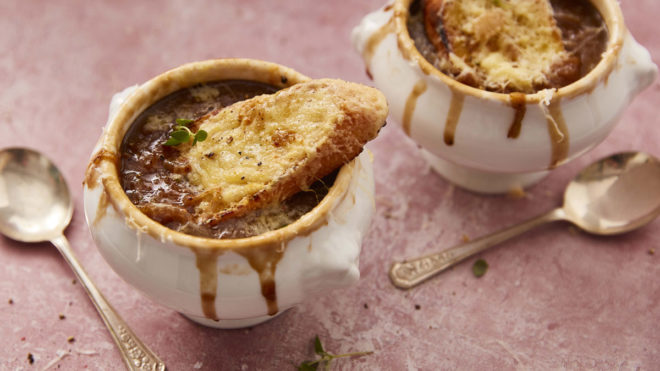 4 servings
55 minutes to prepare
Ingredients
7 onions
90g butter
2tbsp plain flour
120ml white wine
150ml beef stock
3tbsp Worcestershire sauce
2tbsp maple syrup
1 bay leaf
Sea salt & cracked black pepper
1 french baguette
Olive oil
220g gruyere cheese, grated plus a little extra to garnish
Instructions
A classic french onion soup, perfect as a starter or light lunch.
Halve the onions and then thinly slice in to half moons.
Place a medium saucepan on a medium heat and add the butter.
Once the butter has melted, add the onions and the bay leaf then season with salt and pepper.

 

Stir continuously for 10-15 minutes over a medium heat until the onions start to caramelise and become golden in colour. Be careful not to burn.
Add the flour by evenly distributing across the surface and cook for 8-10 minutes stirring frequently.
Slowly pour the white wine, beef stock, Worcestershire sauce and maple syrup over the onions stirring continuously.
Bring the soup to the boil and then turn down the heat to a gentle simmer for around 25-30 min.
Turn on the grill to a medium to high heat. Slice the baguette into eight thick slices and place on a baking tray, drizzle with olive oil and generously grate the Gruyère cheese over the top. Leave under the grill until golden brown.
Ladle the soup into four bowls and add a cheese baguette crouton to the top of each.
Sprinkle with the remaining cheese and serve.
Chef's Tip
The key to this soup is to give it time and not to rush it. By caramelising the onions and simmering the broth, the overall flavour of the soup is more intensified.