Ghoulish Pizza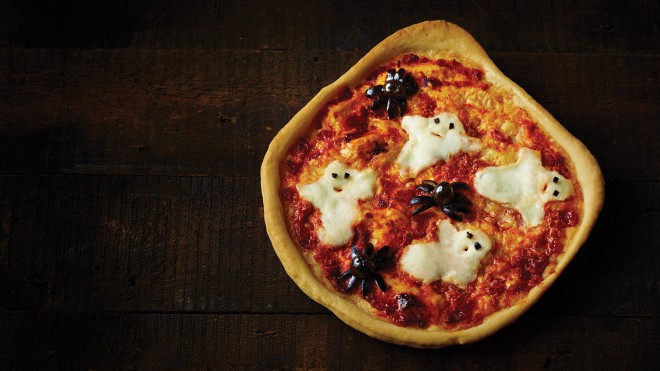 4 servings
1 hour 25 minutes to prepare
Ingredients
500g tipo 00 pizza flour
7g sachet instant dried yeast
Salt
Olive oil
270g jar ready made tomato sauce
125g pitted black olives
2 x 125g balls mozzarella, drained and sliced
Instructions
1 First make the pizza dough. Sift the flour into a large bowl and stir in the yeast and a pinch of salt. Pour in about 300ml hand hot water and mix to a soft dough. Turn the dough out and knead for 5 minutes until smooth and stretchy. Lightly oil a large bowl and place the dough in the bottom. Cover with cling film and leave somewhere hot for about 1 hour to rise until double in size.
2 Pre-heat the oven to 220°C / fan 200°C / gas mark 7. Punch the risen dough to knock out the air, turn out and knead briefly until smooth. Cut the dough into four equal pieces and roll each out to a circle about 20cm diameter. Transfer to two baking trays.
3 Divide the tomato sauce between each pizza and then its time to make the ghost topping. Take a long piece of tin foil and roll into a long tight strip. Shape the strip into a ghost template and place on top of the pizzas pressing down well. Place the mozzarella inside the template. Repeat to make 4 for each pizza. Bake until the dough is golden and the cheese has melted into the ghost shapes . Remove from the oven and leave to cool slightly before removing the foil. Decorate the ghosts with pieces of black olives for the eyes and black olive spiders.
Repeat with the remaining two pizzas.
Please ensure recipe is served piping hot.