Gin & Jam Cocktail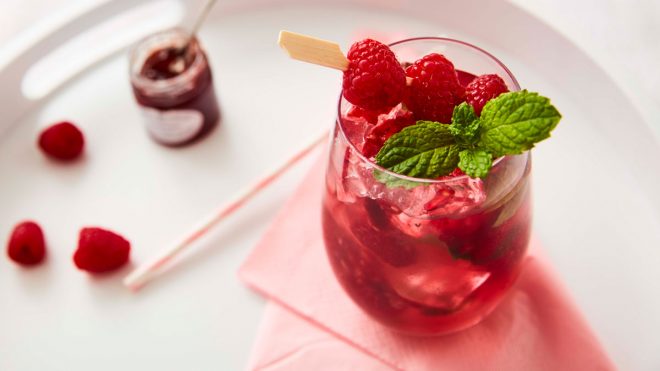 1 servings
10 minutes to prepare
Ingredients
50ml gin - we'd recommend The Lakes Distillery Gin for this one
30ml sugar syrup
5 raspberries
1tsp raspberry jam
Ice
To Garnish
Soda water
1 sprig mint
2 raspberries on a cocktail stick
1tsp raspberry jam
Ice
For the Sugar Syrup
2 parts sugar
1 part water
Instructions
Need another use for jam besides spreading it onto your toast? It's just delicious in this gin and jam cocktail that's perfect for the summer.
Method
For the Sugar Syrup:
Dissolve the sugar in water over a low heat. Make a big batch, pop into a sterilised jar and keep in fridge for whenever you make a cocktail.
For the Cocktail:
Place all of the cocktail ingredients into a cocktail shaker with a couple of ice cubes and shake really well.
Half fill cocktail glass/glass of choice with cubed ice.
Take the shaker and pour over the cubed ice.
Top the glass up with a touch of soda water.
Garnish with a sprig of mint, a teaspoon of jam and a couple of raspberries on a cocktail stick.
Chefs Tip
To make a bigger batch, just multiply all of the ingredients by four, and mix together in a jug instead of using a shaker, then pour into glasses over ice.