Griddled Miso Beef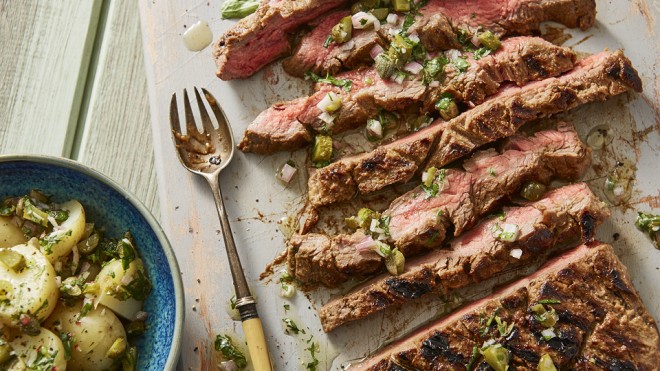 4 servings
8 hours 30 minutes to prepare
Ingredients
1kg piece skirt steak or, swap for your favourite cut such as sirloin, rump or ribeye
1 shallot, finely diced
8 cornichons, chopped
1 clove of garlic, finely grated
2tbsp flat leaf parsley, chopped (Plus extra to garnish)
2tbsp miso paste
5tbsp vegetable oil
3tbsp rice wine vinegar
1tbsp capers, rinsed and chopped
50ml olive oil
a pinch of sugar and salt to taste
Instructions
This is a deliciously different way to enjoy beef steak, best marinated overnight.
1 Score the beef steak in a crosshatch approximately 3mm deep on both sides.
2 Mix together the miso paste, 2 tbsp rice wine vinegar and 2 tbsp vegetable oil. Massage into the steak and place into a freezer bag to marinate. Marinate in the fridge for a minimum of 8 hours, overnight if desired.
3 To make the dressing you will need the shallot, capers, cornichons, garlic, parsley, 1 tbsp rice wine vinegar, 50ml olive oil,
4 tbsp vegetable oil, a pinch of sugar and salt to taste. Combine all of the ingredients and mix well. Check for seasoning and set to one side.
5 To cook the steak, heat a griddle pan over a high heat until smoking hot. Cook the steak for 4 minutes on each side. Remove and allow to rest for 5 minutes.
6 Slice into strips and drizzle over the dressing.
7 Garnish with flat leaf parsley.
CHEF'S TIP
Simply serve with crushed new potatoes, add a tablespoon of Miso dressing to boiled new potatoes and lightly crush with the back of a fork. This recipe also works well on the BBQ for the summer months.