Healthier Banana Bread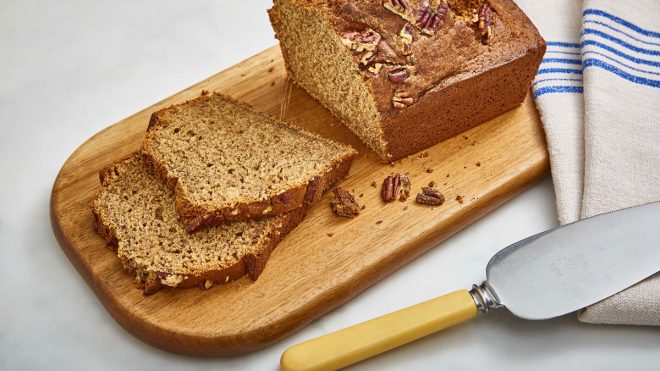 10 servings
1 hour 10 minutes to prepare
Ingredients
65g coconut oil
170g honey or maple syrup
1tsp vanilla extract
2 eggs
2 large ripe mashed bananas
50ml milk
1tsp baking powder
Pinch salt
1/2tsp ground cinnamon
225g whole wheat flour
100g chopped pecan nuts
Instructions
A healthier banana bread recipe that's really easy to make and even easier to adapt to your favourite flavours.
Preheat the oven to 165°c / 325°f / gas mark 3, and grease a loaf tin.
In a large bowl, beat the oil and honey together with a whisk. Add the eggs and beat well, then whisk in the vanilla extract, mashed bananas and milk.
Add the baking powder, salt and cinnamon, and whisk to blend. Lastly, switch to a big spoon and stir in the flour, just until combined. Some lumps are ok. Add the chopped pecan nuts at this stage, saving some for the top of the loaf.
Pour the batter into your greased loaf tin and sprinkle lightly with cinnamon and the reserved pecan nuts.
Bake for 55 to 60 minutes, or until a toothpick inserted into the centre comes out clean. Let the bread cool in the loaf tin for 10 minutes, then transfer it to a wire rack to cool for 20 minutes before slicing.
Chef's tip
Try adding some of yor favourites ingredients to the mix such as chocolate chips, raisins, almonds or sultanas in place of the pecans. You can also up the spice level if you'd like.